Layovers are definitely one of the most grueling parts of traveling. Flying for hours just to have to get on another plane to reach your destination is exhausting. Luckily, if you play your cards right, layovers can be the most exciting part about traveling. If you turn a layover into a stopover, you can see two destinations for the price of one, or even less!
Airlines like Icelandair, WOWair, TAP Portugal, Finnair, KLM, Etihad, and Air Canada all offer stopovers of varying lengths for free. Some airlines even throw in a free night in a hotel, which is an awesome perk. Etihad, for instance, offers the second night of a two night stopover in Abu Dhabi free at a hotel.
Here's one example of where taking a stopover actually saved me almost $200 on flights!
Basically Paying you to see Iceland!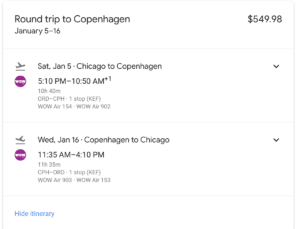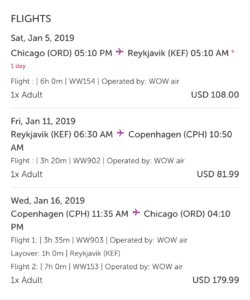 The second itinerary comes out to just under $370 versus $549.98 for the first. The big difference is you'll get to explore the incredible Icelandic landscape in the second. A worthwhile bargain if there ever were one. WOWair makes it easy for you to plan itineraries such as this one as they have a stopover option on their main booking page.
Not all airlines will advertise this feature, but many of them offer it. This is certainly something to consider when you book a vacation. It's not something most people know about, or, if they do, they probably aren't actively thinking about it when planning. But, If you can see two places for less than the price of one, why wouldn't you?
Stopovers can break up your trip nicely
Take this itinerary for example:
.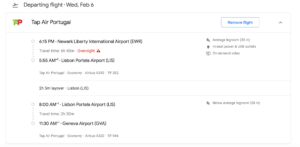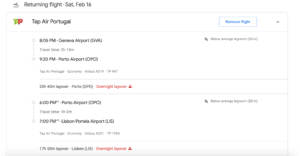 The flight on the way to Geneva is pretty smooth, with only a 2 hour layover in Geneva. The return trip is where it gets absolutely grueling. You'll have 2 overnight layovers which means 4 trips to and from airports that waste a lot of time and money. If you were to instead take advantage of TAP's stopover program you could break up your journey on the way back in a more travel friendly way.
How to Book 
Instead of booking through Google Flights or another airline aggregator which will not integrate stopover options, go directly to TAP Air Portugal's website.
Find the stopover option, located directly next to the Multi-city option.

Click on it, put in your origin and destination, dates, and decide which city you'd like to stopover in and for how long.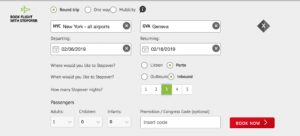 I decided on three nights in Porto. Once you click book now, you'll see a heavily improved itinerary such as this:

This itinerary costs the same as the original and is way more efficient. You'll have three nights to explore one of Portugal's biggest cities and see some of the sights. It's awesome that there's the option to extend the trip up to five days as it means you can slow down.
Be Vigilant
Again, this is not something that is an option if you search for flights on Google, Expedia, or another aggregator. So, it is something you'll have to keep in the back of your mind when you're booking an overseas vacation. Sometimes airlines advertise it and other times you'll have to do some digging to see if it's an option. Either way, when done correctly, a stopover will save you time, hassle, and sometimes a lot of money!