Latest Post: Stay in Savannah
This is the seventh part of a series where I try to plan the best possible weekend trips for under $150 per person. The featured origin is Miami, and there were some excellent options today, but Asheville was the most interesting of the bunch.
Best Itinerary From Miami for Two Travelers (MIA, FLL)
Destination: Asheville
Flights (Allegiant from FLL): $132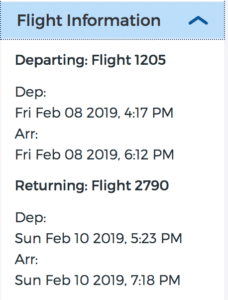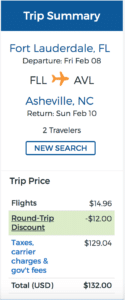 Hotel: $127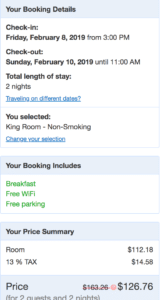 or Airbnb: $159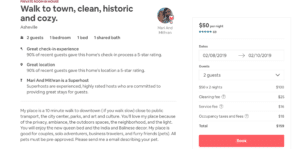 Total Cost w/ Hotel: $259
Total Cost w/ Airbnb: $291
Per Person: $129.50 w/ Hotel, $145.50 w/ Airbnb
City in the Appalachians
Asheville is a small but lively city tucked in the Blue Ridge Mountains. It's a great destination which has been getting more attention as of late. I've heard the town's residents described as "progressive hillbillies" which makes for a compelling combination of food and culture.
The reason I chose an Airbnb as a secondary option despite its higher price is the fact that it's within walking distance of downtown. The hotel is a great option for someone looking to rent a car to drive on the Blue Ridge Parkway. Or you could take a day trip out to Great Smoky Mountains National Park. Additionally, you could rent an Airbnb on the outskirts of town for a cheaper price than both options and still rent a car to explore.
I actually took a weekend trip to Asheville with my girlfriend earlier this year and was very impressed by it. It's small but not too small, has an incredibly nice downtown area with a multitude of restaurants, and has an awe-inspiring landscape.
On a trip only somewhat longer than the one I've highlighted, we were able to spend a full day in Asheville and visit the Smokies. The national park is only a 2 hour drive from Asheville, and it was worth it for the amazing views.
Things to Do: 
Attractions:
We drove up to the Biltmore Estate, but found it too expensive to be worth a tour ($55). The Gardens at the estate get excellent reviews and if you're interested in seeing America's largest house, it's a good option. Tickets are available for February 9th and 10th, but not the 8th.
A quirky and retro stop, the Asheville Pinball Museum is a fun place to play over 80 pinball games for $15. Right down the street is the Saint Lawrence Basilica, a Spanish Renaissance style church you can tour for free.
Wander Downtown:
You'll want to walk downtown and marvel at the number of food options for a city of 90,000. There's a bunch of shops, bookstores, and galleries you can wander into as well. I especially like Malaprop's bookstore and the Mast General Store. The latter has one of the best selections I've ever seen for outdoor enthusiasts.
Food and Drink:
Consistently ranked as one of the top five beer cities in the USA, Asheville has a bunch of local breweries, and outposts of national breweries like Sierra Nevada and New Belgium. Wedge, Burial, and One World are among the best breweries in the area and there are plenty more to try. Thirsty Monk is a bar with an excellent selection of craft beer. All of that craft beer will make you hungry, and as I've mentioned, there are a a lot of restaurants to try.
Tupelo Honey has excellent southern food, Cúrate is the place to go for tapas, and I had surprisingly good curry at Blue Dream Curry House.
Outside of downtown, there's a breakfast spot I adore for its Latin inspired breakfast called Abeja's House Cafe. I split the Huevos Rancheros and Chilaquiles with my girlfriend and it's some of the best breakfast food I've ever had.
Luella's BBQ in North Asheville is another delicious spot.
The Smokies
If you have enough time, I'd highly recommend driving out to Great Smoky Mountains National Park for a day trip if you haven't been before. Barring Knoxville, Asheville is the closest city to the park and the mountainous drive is enjoyable. For a good day hike, try the Alum Cave trail, which is 5.5 miles each way with sweeping views.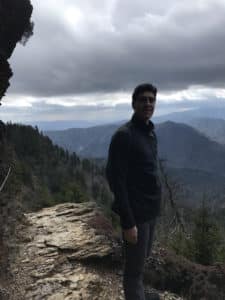 We were hoping to see some of the black bears in the park, but had no luck. The dozens of elk grazing in a field on our way out was a bit of a consolation though.
You can also drive to Clingman's Dome and hike up the half mile trail to the highest point in the park and Tennessee as a whole. Even non-hikers shouldn't have trouble appreciating the scenery.
If you'd like to make the Smoky Mountains the focal point of your trip, you could fly into Knoxville from FLL starting from $193.
Other Options from the Miami/Fort Lauderdale Area
In my last post, I thought Washington, DC had a lot of good options. Turns out that the Miami area has even more. I won't even attempt to list them all and you can check this map for more ideas.
I will, however, list some of the more interesting options apart from Asheville that came up in my search:
Note: Round trip flight prices for two people listed, not accommodations.
Atlanta: $93
Memphis: $160
Philadelphia: $160
Greenville, SC: $163
New Orleans: $165
Richmond: $165
Louisville: $185
Boston: $201
Austin: $205
Nashville: $214
There are plenty of weekend options that can be booked for pretty cheap. I hope readers in the Miami area take advantage of these great prices.
Next up will be a trip from Philadelphia.