Latest Post: Asheville Adventure  
This is the eighth installment of the $150 Getaway Challenge. This is a series in which I plan weekend trips from various origin cities for under $150 per person. This includes flight and accommodation, and so far there haven't been any problems finding trips within budget.
Denver has shown up as a budget option from a lot of the origins I've covered so far. But, the decision has never been as clear as now. So, it's our featured destination from Philadelphia for a two night weekend trip.
Best Itinerary From Philadelphia for Two (PHL, TTN)
Destination: Denver
Flights (From PHL on Frontier): $193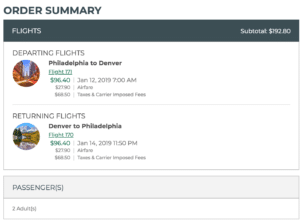 Airbnb: $65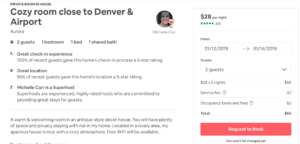 Total: $258
Per Person: $129

Optional Rental Car: $62
Prices accurate as of 12/22, as always they are subject to change.
A Winter Wonderland
The possibilities in Denver are numerous. Staying in the city and checking out some of the local  attractions could take up a few days. You could go to Rocky Mountain National Park, Mount Evans, or Garden of the Gods for your nature fix. Denver is within a stone's throw of ski resorts. Weed tourism is a burgeoning industry. Red Rocks Amphitheater and Boulder are very close. You might decide to fly into Denver and stay in Fort Collins or Colorado Springs. In short, there's plenty to do.
You'll have to make that decision based on your interests, but adding a cheap rental car to your stay could provide you with flexibility to combine a couple of these choices. I found cheap weekend flights from my city to Denver and will be heading there in a couple weeks with some friends. We'll be getting a car as it's cheaper than public transit when split between multiple people, and gives us the flexibility I mentioned.
The Airbnbs I include in my posts are just for a rough gauge of what a well rated private room could cost you in the city. If your type of weekend trip is a a cabin getaway outside of the city, that could certainly still be a budget option. I encourage my readers to book whatever works best for them, I'm just trying to emphasize that are plenty of budget options.
That said, here are some of the best things to do in and around Denver:
Eat:
There are a few food halls in the city which people rave about and I'm excited to head to at least one of them. These include:
There are also a bunch of cheap, highly rated standalone restaurants.
Eat some of Denver's famed green chile at El Taco De Mexico or get your empanada fix at Maria Empanada.
There's great Native American cuisine at Tocabe in North Denver, Vietnamese at Pho-natic, Rattlesnake and reindeer hotdogs, among others, at Biker Jim's Gourmet Dogs.
While not cheap by any means, if you're feeling adventurous and want to try a local delicacy/oddity, head to Buckhorn Exchange and try the Rocky Mountain Oysters. Buckhorn has been operating since 1893, is a National Historic Landmark, and serves up the (in)famous dish. I'll just say that they're not oysters from the sea and let you do your own independent research on that.
Drink
It goes without saying that Denver is a great beer city. You can try some of its craft beer at the following:
See and Do:
Kirkland Museum of Fine and Decorative Art
Beyond Denver city limits, there's plenty else to see, especially for outdoorsy types.
Things to Do/See Outside Denver:
Mount Evans – Note that the scenic byway is closed for the Winter
Rocky Mountain National Park – I'd recommend monitoring whether the park is open or not, given the government shutdown.
Be on the lookout for the ninth part of the $150 Getaway Challenge from the Atlanta area.