Why Visit San Marino?
How does San Marino receive over 2 million visitors per year despite being smaller than my NJ hometown?
For one, San Marino is the world's oldest surviving republic. The world's fifth smallest country is also an enclave, surrounded by Italy on all sides. That makes it a popular day trip for tourists and residents of Italy alike.
Interestingly, San Marino is one of just three enclave countries in the world. The other two are Vatican City, also enclaved by Italy, and Lesotho, surrounded by South Africa. San Marino is astoundingly over 50 times smaller than Rhode Island, which is the tiniest state in the US.
It's Not Italy?
No, it's most definitely not Italy. Although, Italy is obligated to offer San Marino military protection.
It's said that Marinus, a Christian fleeing religious persecution, founded San Marino in 303 AD. Since then, it has remained largely independent, with brief military occupations by other countries.
The Sammarinese speak Italian and their cuisine and culture are highly similar to Italy's. That makes sense, given they have open borders with Italy's Le Marche and Emilia-Romagna regions.
It feels a bit bizarre, in a good way, to be in a completely different country from Italy despite all of the similarities. The slight differences in culture are strange.
For example, I came across a store called Target thinking there was no way it could be the American retailer and it wasn't. Instead, it was a store that almost exclusively sold airsoft guns, which I had never seen in Italy. Strangely, there were at least two other stores selling the same thing.
Cultural differences aside, the views in and near the city center are excellent. On Monte Titano, you can see the Adriatic Sea, which is over twelve miles away. The distinctive symbols of San Marino are its three towers. They're the most popular tourist sites in this small and fascinating country that's well worth a visit.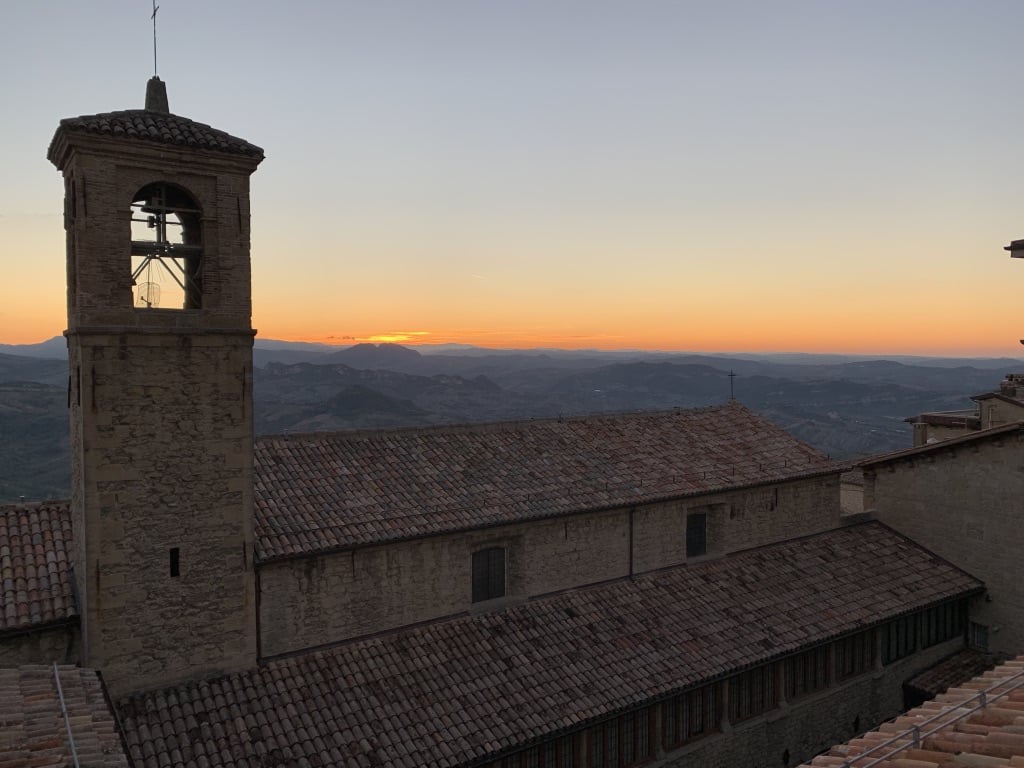 How To Get There
There aren't too many options or transit links, unfortunately. Driving is a pretty solid option. San Marino is located just a half hour away from Rimini, 90 minutes from Bologna and three hours from Florence.
San Marino has no train service which means that the bus is the only public transportation option. The best bet is to take the train to Rimini and catch the Bonelli Bus. The Bonelli Bus from Rimini Station takes about 50 minutes and only costs five euros. You can conveniently purchase tickets on the bus as well.
A word of warning, there are a lot of buses on the street outside of the Rimini station. So, you'll have to be alert to find the correct one.
Taxi is another option but it isn't cost effective, at 30-40 euros from Rimini.
The Drive There
The drive there had a few quirks that I found interesting. At one point, we drove into San Marino, out of San Marino and back in. Strangely enough, it seemed to be the quickest way to get to the city center.
With no border control, you can drive and technically walk into San Marino without a hassle.
The drive definitely isn't for those who get carsick. I've gotten accustomed to vans and buses speeding around hairpin bends from my time in Asia and South America. However, the bends in San Marino were narrow enough where we had to make some nerve wracking K-turns. I'm always amazed how skilled bus drivers can be, some of the things they pull off are ridiculous.
Another quirk unrelated to driving is the phone service, or lack thereof. If you have an Italian SIM card, you may get charged at exorbitant rates in San Marino. Because San Marino is not in the European Union, providers aren't obligated to offer free roaming packages like they are in the EU.
Unless you're using an international plan, make sure to put your phone on airplane mode and download maps before arriving!
Where to Stay
Most people visit San Marino as a day trip, which is totally fair because the highlights can certainly be seen in a few hours.
However, I've been fascinated by the enclave of San Marino for a while and wanted to get a deeper sense of what it was like. So, we stayed two nights and thought it was the perfect amount of time to slow down. Unfortunately, there really aren't too many options for accommodations, especially in the city center.
Hotel Joli seemed to be the best price/quality option in the city center and it ran my girlfriend and I back about $75 per night total. It's definitely a no-frills kind of place but it was comfortable and we were happy with it.
There are some cheaper options near the northern border with Italy but without a car it's best to be near the city center. Personally, we didn't want to try to navigate public transit in the only country in the world with more cars than people.
For budget backpackers, there is a hostel outside the city center but it doesn't seem to get the best reviews. It is, however, only $20 per night and a 20 minute walk away from the cable car that goes to the center.
Airbnbs are also sparse in the country, so options are a bit limited, especially for budget travelers.
What to Do
San Marino's medieval city center is relatively compact (but really hilly!) and all of the main sights are within walking distance of each other.
The Piazza Della Liberta is the city's main square, which features the Palazzo Pubblico. The Palazzo Pubblico is the main government building and definitely stands out.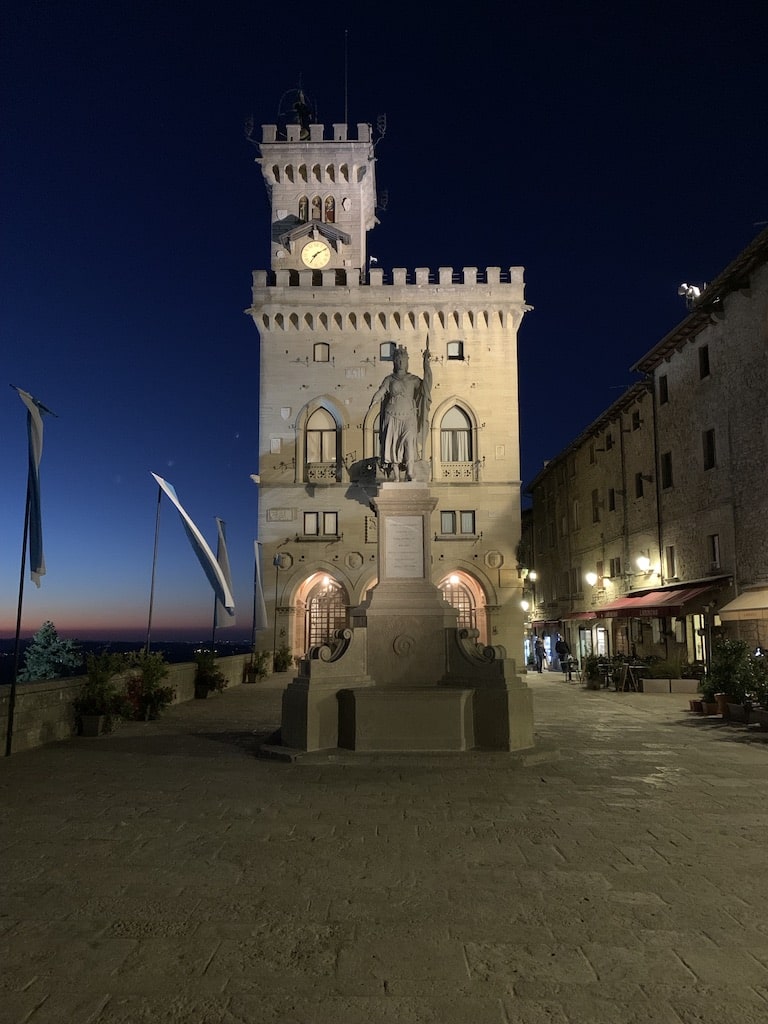 A two-minute walk away, you'll find the Basilica of San Marino which is notable for its massive columns and melodic bells. Keep walking up the hill past the church and marvel at the views of the surrounding countryside and the Adriatic Sea.
Eventually, you'll hit the Guaita Tower which is the city's oldest fortress and its most iconic attraction. You can pay a combined entrance fee of 8 Euros to go into two of the towers and see the breathtaking views.
I particularly love the view of the second tower, or the Falesia Tower, from the Guaita Tower and the entrance fee is worth it for that alone.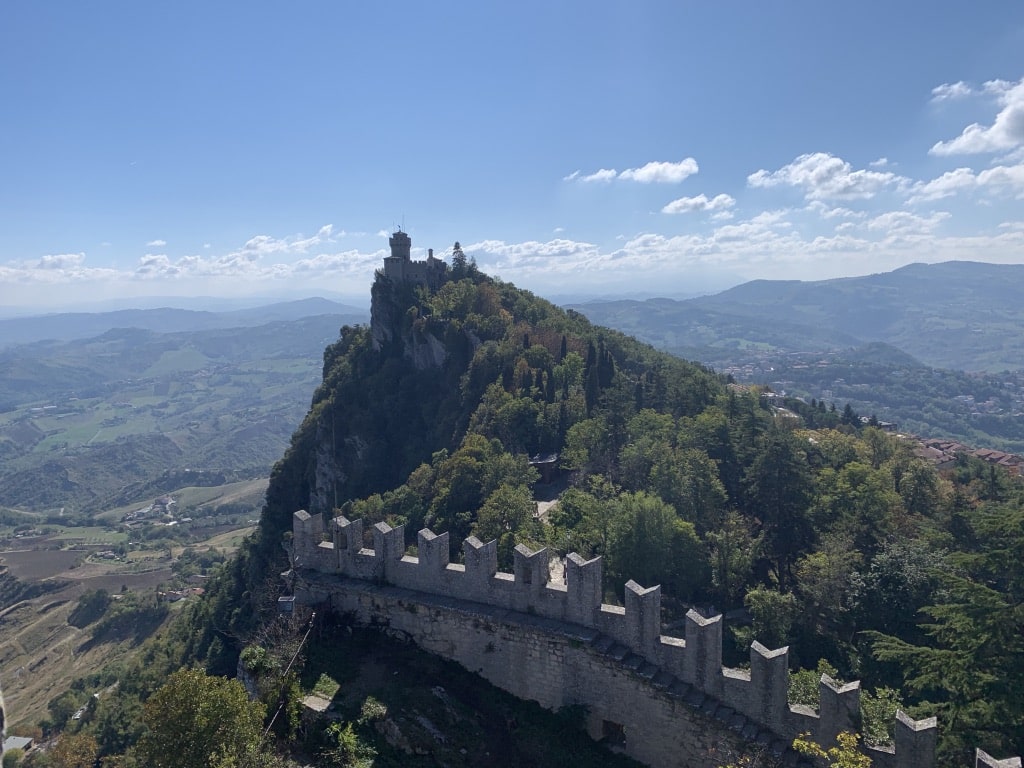 Moving on to the Falesia Tower, there's a museum of medieval weapons and nice views of the Guaita.
Continue walking along the summit of Monte Titano to the third tower called Montale. It's a lot smaller than the first two and I don't think it's possible to go inside, but it's still photogenic.
Make sure to also make time to wander around the narrow streets of the city center and soak it all in.
Another interesting thing to do in San Marino is walking on an abandoned railway line that connected San Marino to Rimini. The Galleria Montale is a bit eerie but is certainly unique in that the tunnel is now a park intended for public use.
The open air museum still has a 1930s era train on its tracks and the tunnel goes on for about a mile. It is definitely worth it if you're looking to do something a bit different.
What to Eat
The options in the city center are very limited variety-wise. It's a little hard to find food that isn't explicitly Italian/Sammarinese and don't come in expecting differently. There is sushi, a Chinese spot and a pub, though.
For pizza by the slice, Strapizzati is a good, quick option. For a more sit-down oriented pizza spot, Smaller is another solid and reasonably priced option.
I was craving something for lunch one day that wasn't pizza or a piadina and came across a cafe called Reame not too far from the city center. I'm a bagel snob, being from North Jersey and all, and I try not to order them elsewhere. But, they had a bagel sandwich with good sounding ingredients and it was way better than expected.
San Marino's not a foodie's paradise but it's an interesting experience to sit down and eat dinner among the locals.
Can You Do it on a Budget?
Well, it depends what your budget is. It's definitely not super easy to keep costs down as there just aren't many options. You most likely can't do it under $25-30 a day and you should expect prices comparable to Italy's more expensive regions.
If you stick to fresh fruit, pizza by the slice, piadina and pasta dishes I think that under $50 daily is a reachable goal. You won't be breaking the bank overall, as it's likely you'll only need a night or two anyway to see the country.
If you've ever wondered what it'd be like if a small town were a country, look no further than San Marino. It's incredibly interesting that a place with just over 30,000 people has managed to be independent for hundreds of years. Given it's interesting history and some excellent attractions, consider heading there as a side trip on your next Italy trip.