I wasn't entirely sure what to expect when I went to Cambodia last November. I heard the food wasn't up to the standard of other destinations in Southeast Asia. People also told me the locals weren't as friendly as other nearby countries'. I also heard that outside of Angkor Wat and Phnom Penh there wasn't too much to do. In my experience, I found all of that to be untrue. Kampot, a small city located on the Preaek Tuek Chhu river in Southern Cambodia, ended up being one of the highlights of my two-month trip in 2019.
Kampot is beautiful, relaxing, cheap and has enough to do to make it worth staying a week, or longer. COVID has fundamentally changed our ability to travel and a lot else about our world, but I'm hoping I'll be able to go back before too long. It's is a great place for any budget backpacker to stop at on a Southeast Asia trip. Kampot has a walkable downtown with a bunch of affordable restaurants and it is in a prime location for day trips. Its busiest intersection also has a giant statue of a durian. What's not to love?
Where to Stay
Arcadia Backpacker Hostel – Arcadia is one of the most unique hostels I've stayed at, as it's a waterpark on the river. It's definitely a party hostel. Despite its tranquil location, it's hard to relax as loud music is playing 'round the clock. It's somewhat annoying that the location is 15-20 minutes outside of the city by Tuk Tuk, so it might only be worth it to stay a night or two. It also had an incredibly janky outdoor gym setup that was endearing. Expect to pay around five dollars per night. But, you'll probably have to eat all your meals at the hostel as well, because there's not much in the vicinity.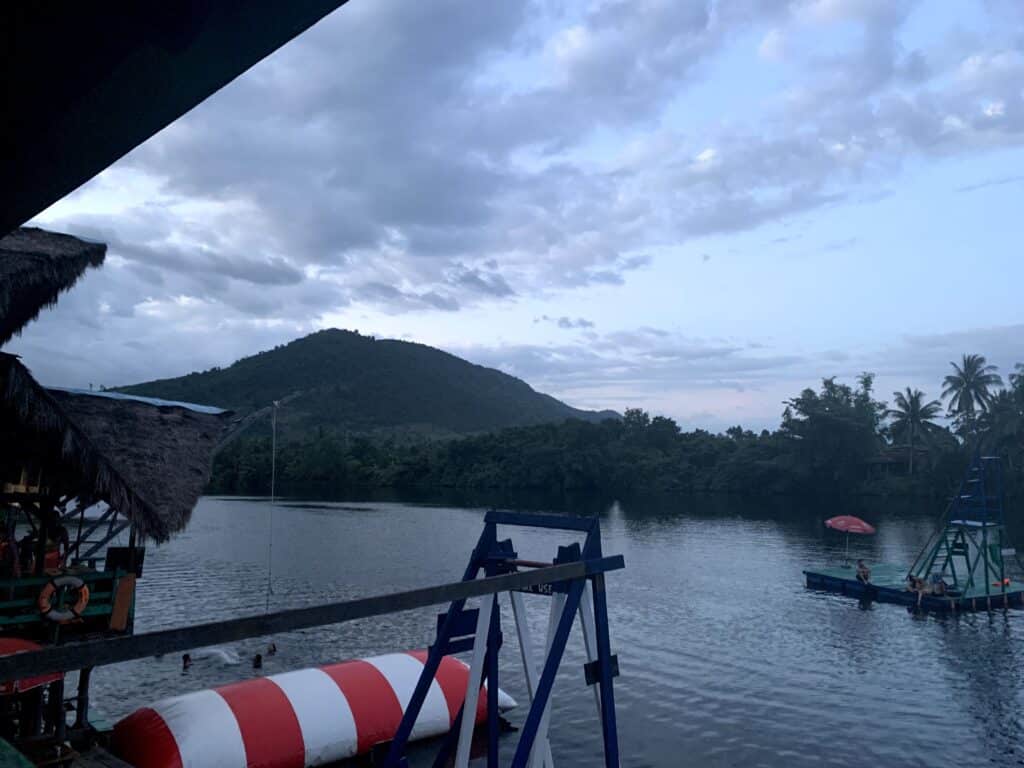 Park Inn Hostel – Park Inn was one of, if not, the best hostel experience I've had. I stayed for four nights after staying at Arcadia for two and I regret not staying for longer. The staff was incredibly friendly and helpful. They set me up with a really cheap motorbike that allowed me to explore the surrounding areas.
I can't remember the hostel owner's name, which is a shame, because he's a truly great guy. He even invited me and a couple other guests at the hostel to his friends' birthday party. He provided us with clams, chicken feet, beer and cake. Chicken feet are definitely an acquired taste, but worth the try. The atmosphere was relaxed and social and it was easy to get to know people. I think I paid $4 per night and $2 extra for the days I ate breakfast.
What to Do
There's something about Kampot that is inherently relaxing. You could spend your days sitting at a cafe near the river. It's also fun to wander the streets and look at the French colonial architecture. Compared to Siem Reap, the Kampot Night Market isn't anything to write home about, but its modesty matches the overall vibe of the city.
The downtown area is very walkable and there are a lot of options for every meal. I liked how accommodating the city was for backpackers, while also retaining its authenticity. I played a pickup soccer game with locals at the stadium close to the famed Durian Roundabout and later that same day watched Arsenal play at Couch Potatoes, an expat bar. As an aside, the stadium was one of the only places on my trip where I could run on a track, and I really appreciated that. You could get a decent American style breakfast but there are also some great Khmer restaurants.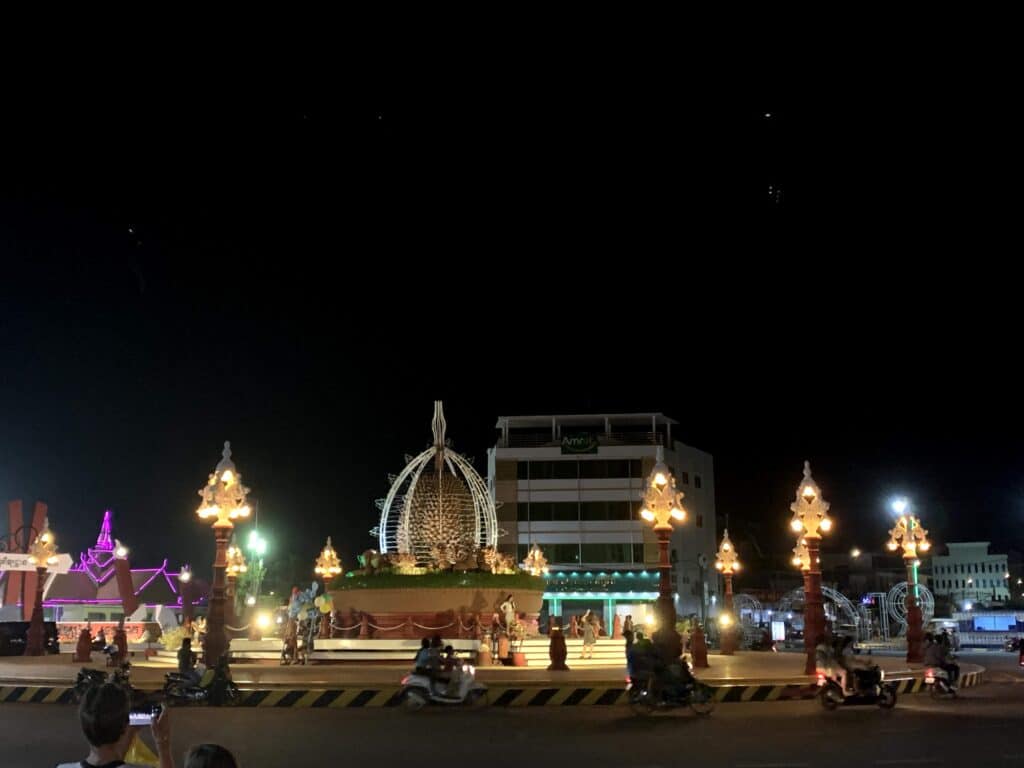 A couple of other things to do are to visit the salt fields which are littered around the Kampot outskirts and walk around the riverside area at night. There are a lot of neon lights on display and the temperature cools down to make the nights really pleasant.
Day Trips
I did a few day trips on the motorbike, which I'd definitely recommend renting to explore the surrounding areas. Preah Monivong Bokor National Park had excellent views of Phu Quoc Island and the Southern Tip of Cambodia and had a really awesome European style church at the top of a hill. I think I paid 50 cents to enter by motorbike and it's around 45 minutes from the center of Kampot.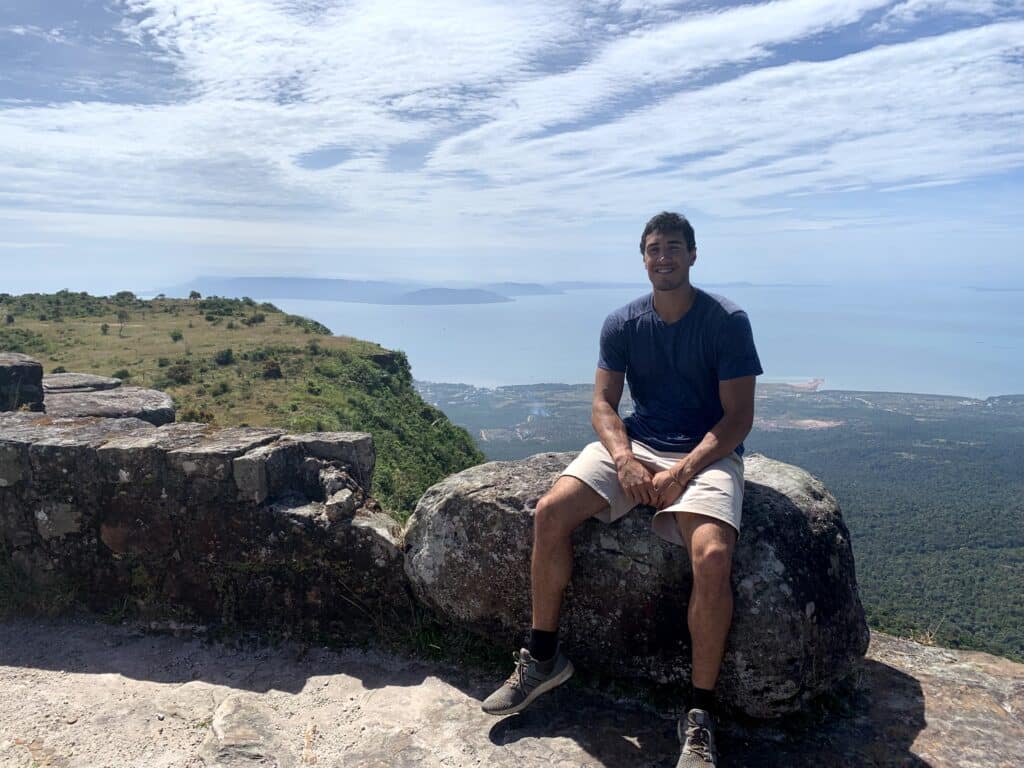 While Kampot doesn't really have a beach, nearby Kep is a great place to take a day trip for even more relaxation. The Kep Crab Market can't be missed. You can watch your crabs being caught, choose which ones you want, and have them cooked with a side of butter for really cheap prices. I regret not bringing utensils though. I had few complaints about Kep Beach itself, it was a bit small but a fine place to spend a lazy afternoon. The giant beachfront Crab statue is a kitschy but unique and fun addition. Kep is around half an hour from Kampot by motorbike and it's worth the trip for the Crab Market alone.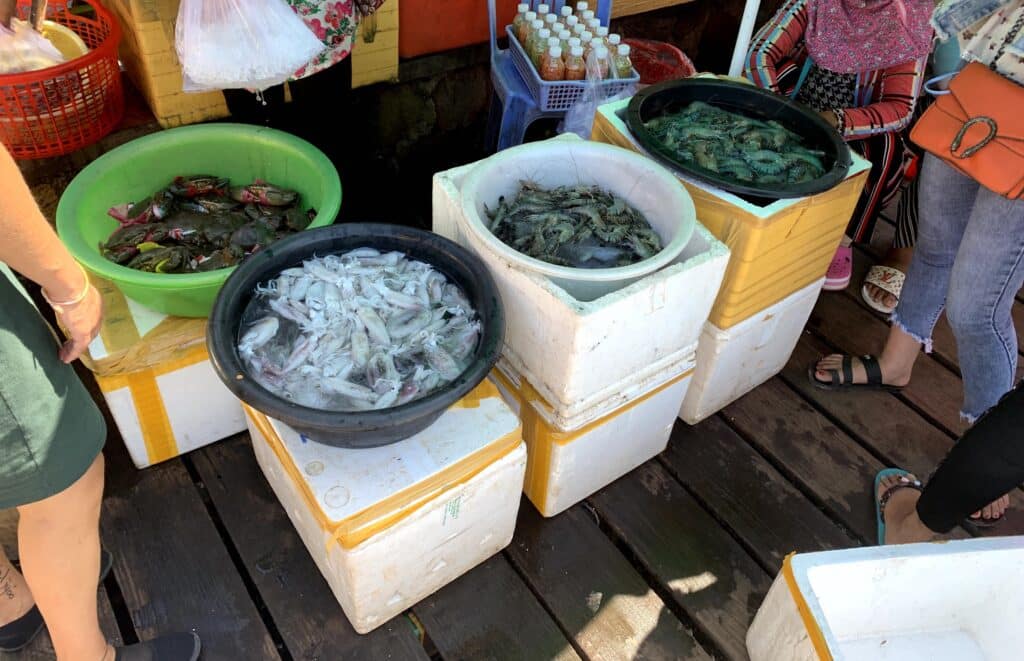 Kampot has world-renowned pepper which has garnered it Protected Geographical Indication status. You can go to one of the many pepper farms in the area and take an informative tour of the plantation, along with free pepper tastings.
I'm ashamed I didn't know the difference between red, black, and white pepper before the tour. Bo Tree pepper plantation serves food which is seasoned with their farm fresh pepper and their staff was incredibly friendly. I bought some pepper to take home for my family and they loved it.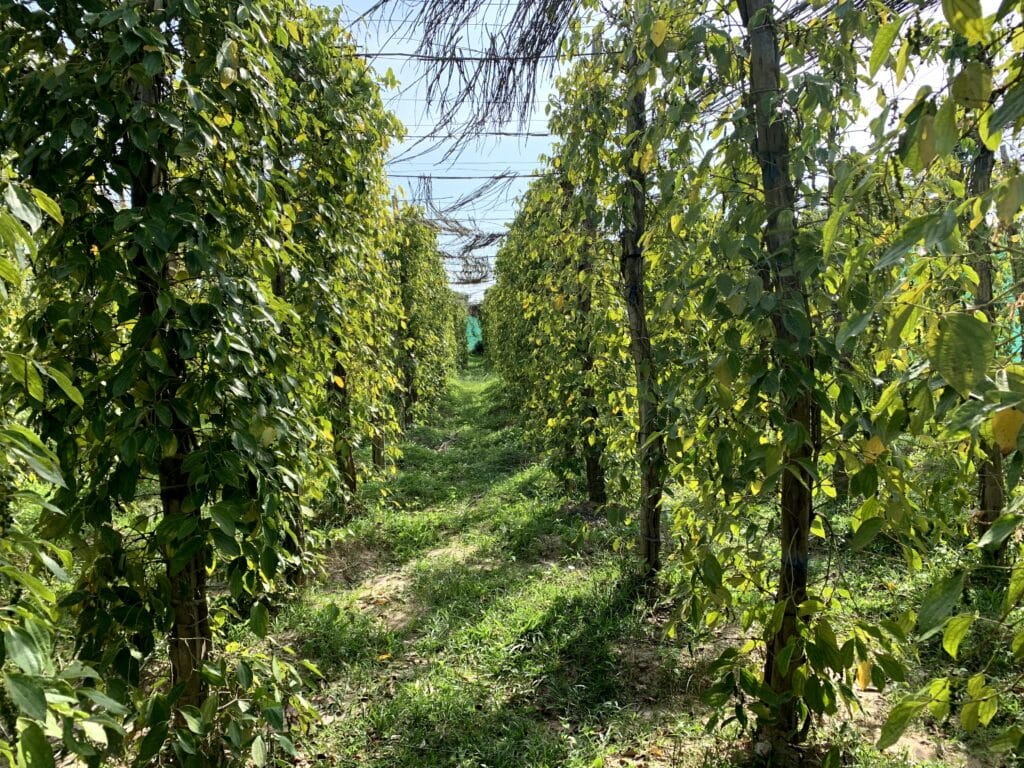 Where to Eat
I tried a lot of Khmer food in Siem Reap, Battambang, and Phnom Penh, so I didn't eat too much of it in Kampot. But, I did really like Lemongrass Bistro, which served both Thai and Khmer food. Simon's Tandoor was a solid stop for Indian food, Aroma House has good but somewhat expensive (for Cambodia standards) Mediterranean, and if you're craving a late night burger, Jetzt has burgers that match up with American ones.
Because you're in Kampot, you can't leave without trying the avocado and pepper smoothies that are sold around town. It didn't sound the most appetizing but it was actually pretty refreshing. Overall, Kampot checked all of my boxes in both a culinary and travel sense!