Luang Prabang is a scenic and sleepy city on the confluence of the Mekong and Nam Khan Rivers. It's a small, charming, and walkable city with noticeable French and Chinese influence. While there are luxury options for more traditional travelers, there's no shortage of cheap accommodations and food. Luang Prabang was my favorite destination in Laos and should be on any budget backpacker's radar.
How To Get There
Luang Prabang is best reached by the two day "Slow Boat" which departs from Huay Xai, Laos. If you're staying in Chiang Rai, you can take a local bus to Chiang Khong. From Chiang Khong you can take a Tuk Tuk to the Thailand/Laos border.
Once you cross the border into Laos, you can take another Tuk Tuk to the Slow Boat dock. I think it was around 200,000 kip, which is $21.50. There are also direct flights from a few major cities around Asia.
The Slow Boat is by no means a glamorous way to travel, but it's an experience that cannot be missed. Sure, there might be a little bit of standing water from the rough ride, but the unspoiled Mekong riverbank views make it more than worth it!
You'll have no problem finding accommodation after the first day. When you arrive in Pak Beng, people will approach you about staying in their guesthouses/hostels. You can negotiate a price or book online. You'll arrive Luang Prabang the next day before sunset, after another six hour ride.
I made the trip with a few other travelers who stayed at my hostel in Chiang Rai, Thailand and it was a great bonding experience.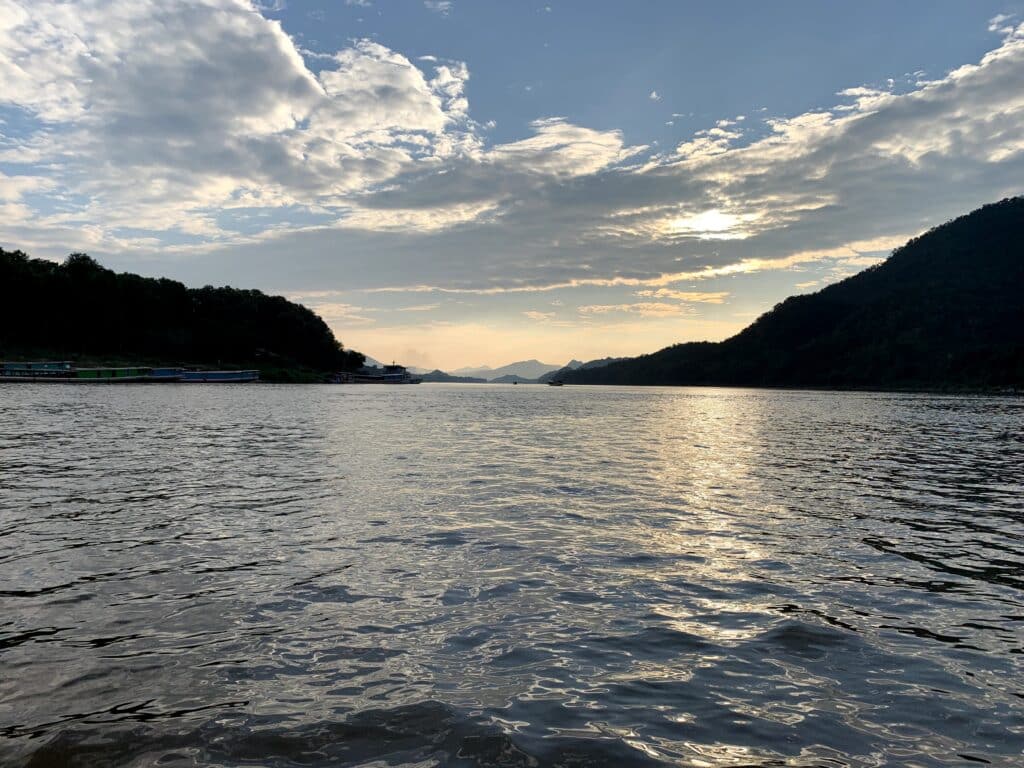 Night Market
Once you arrive in Luang Prabang, check into a cheap hostel, like City Central and enjoy what I believe to be the best Night Market in Southeast Asia. The blue and red tents where merchants set up form a kind of modern art-piece.
There's an incredible vegetarian buffet tucked away in an alley right off of the main Night Market strip. You can also get a big bag of tropical fruit for a dollar or less. Negotiating prices is definitely encouraged and everything is cheap. From street food to clothing, arts and crafts, the Night Market has options to satisfy any traveler. It's certainly my favorite part of the city.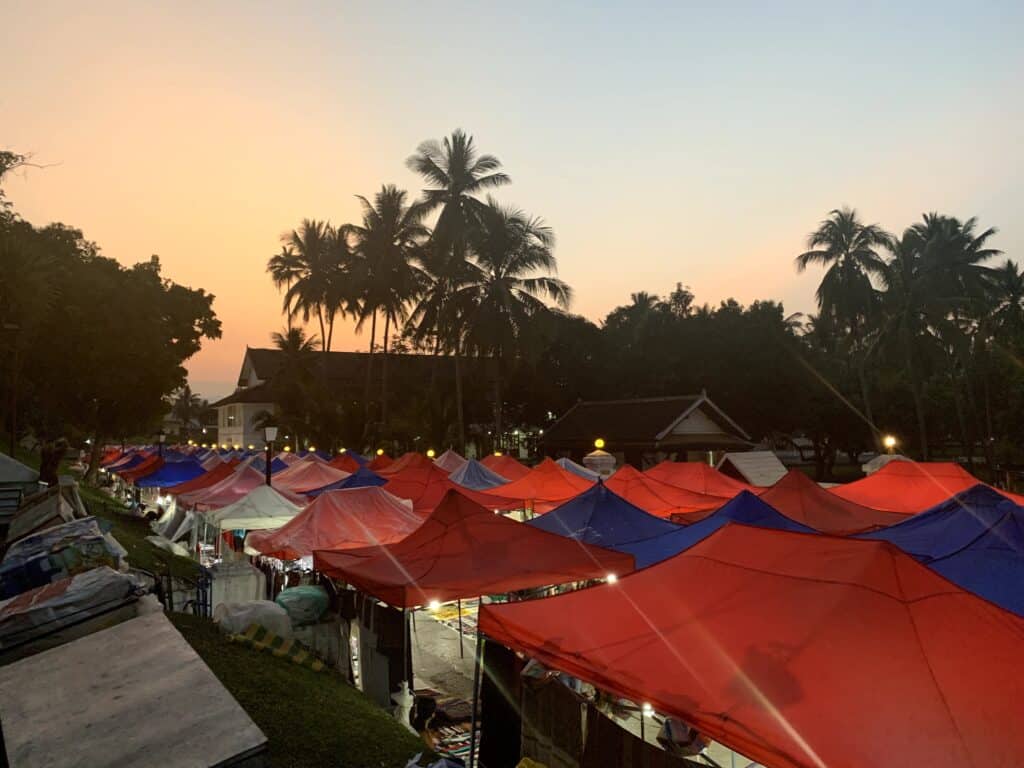 Phousi Hill
This is one of my favorite places to watch the sunset. The foggy mountainous backdrop, which dwarfs the city, is seriously striking.
Once the sun sets, you can walk down to the night market and grab a bite to eat. There were a lot of tourists there when I went, but it was worth it either way. If crowds bother you, coming for the sunrise might be a better option.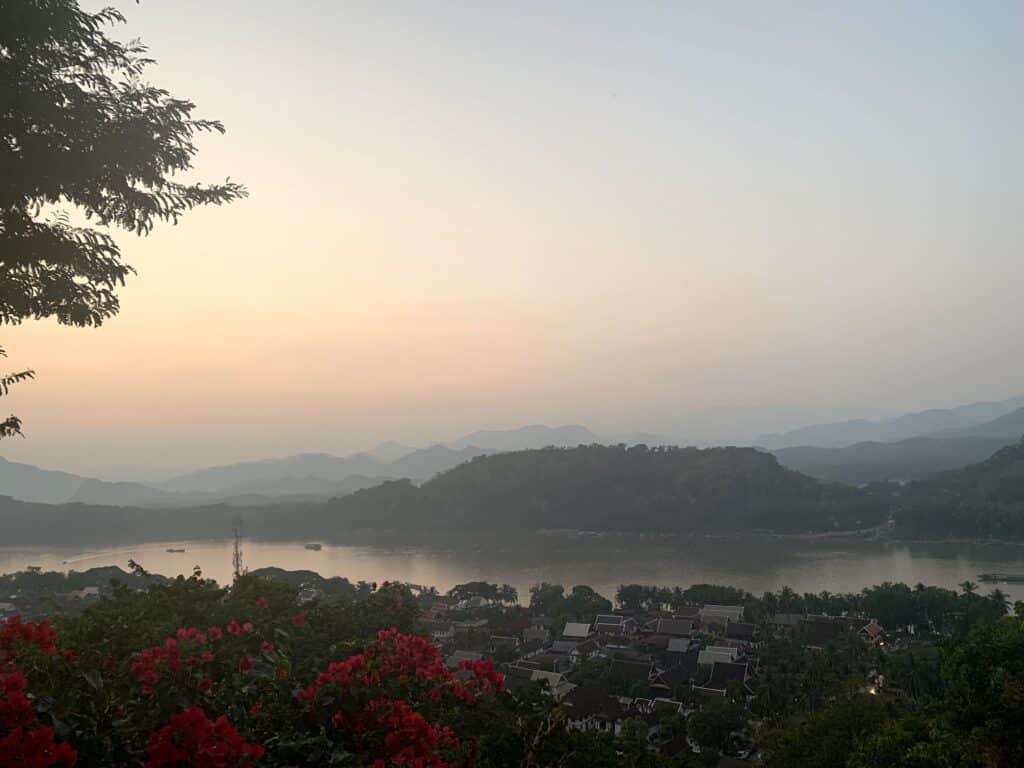 Kuang Si Waterfalls
Without question, this is one of the most beautiful waterfalls I've seen. The water was a stunning shade of turquoise. It was refreshing to swim in the pools as well but the water is freezing! We organized transportation through our hostel and it was pretty affordable.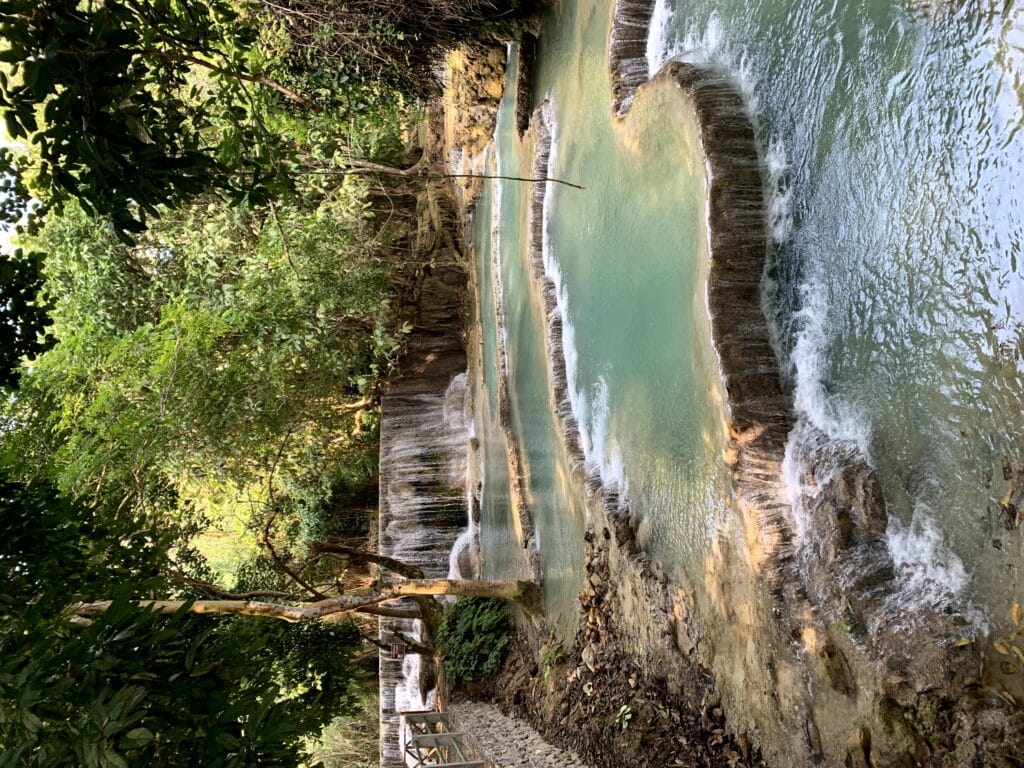 UXO Museum
Unexploded ordnances are still a big problem in Laos. They're a horrifying aftereffect of the wars that ravaged Vietnam and Laos in the 60s and 70s. As an American, it was hard not to feel frustrated with our foreign policy after visiting this museum. 270 million cluster bombs were dropped from US aircraft, of which 80 million remained unexploded post-war. Clearing the land of these deadly explosives is an ongoing process and people are still being killed by them. This museum documents this sad history. It's a sobering but necessary and informative visit.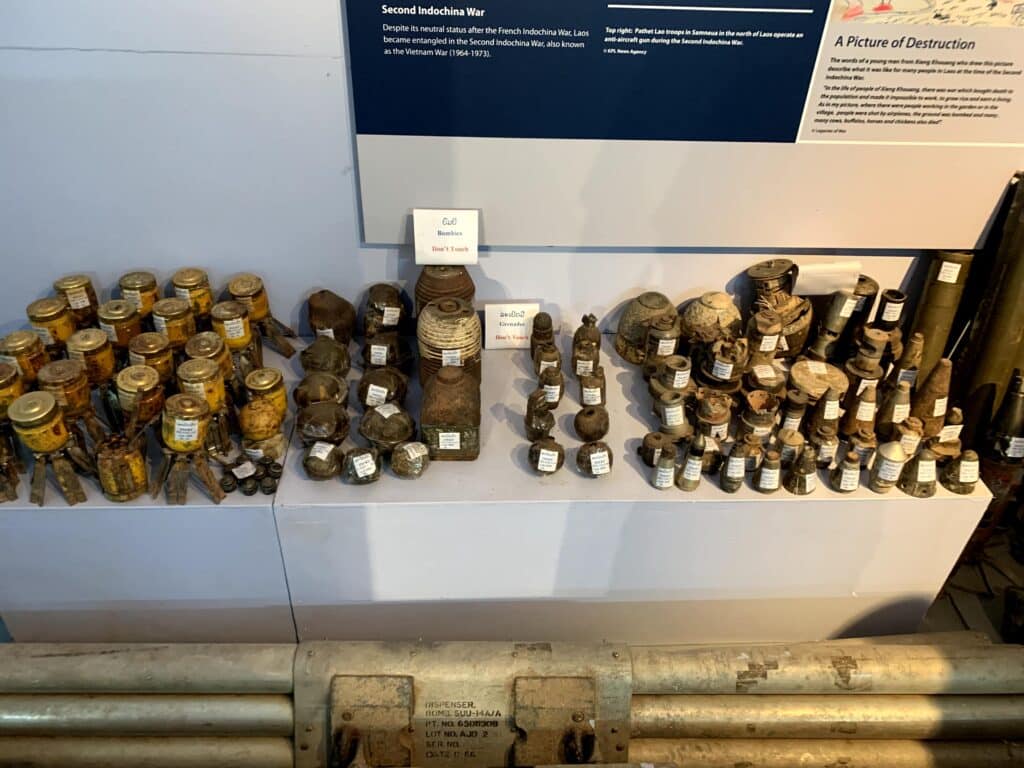 Other Things I Did
Nightlife is a bit lacking in Luang Prabang and Laos as a whole. The Luang Prabang Bowling Alley might be the only place to legally get a beer after midnight. Laos has a curfew for most businesses after 11:30 P.M. It's quirky but it was a pretty nostalgic and fun activity.
Utopia is a laid back bar with a nice view of the river. It's a nice place to be during the sunset as well.
Something else I like to do when I travel is visit local gyms. It keeps me fit and helps me feel more connected to the place I'm traveling to. The aptly named Big Muscle Gym was a fine place to get a workout in.
Post-COVID, I'd love to go backpacking in Luang Prabang and Laos again. It's a strange, beautiful, and culturally rich country that I came to love. Laos, and Luang Prabang specifically would make a great addition to any Southeast Asian itinerary.