One of my concerns about backpacking in Southeast Asia and South America was keeping my fitness routine going. The vast majority of hostels/guesthouses don't have a gym, unlike big name hotel chains.
So, it takes a little effort to find a place to work out while backpacking. Once a COVID vaccine is widely available, I'm excited to be able to travel and go to the gym again.
Why do I Work Out when I Travel?
Working out adds a semblance of structure to my schedule that's desperately needed when I'm backpacking. Plus, with all the good and hearty local food I like to eat when I travel, it's nice to counteract that a little.
Exercising has even become one of my favorite travel activities. Going to a local gym can be an excellent window into a country's culture.
As a 6'4″ American guy, I stand out at the gym. So, locals have been more likely to approach me as a result. I can see how this could also be a negative.
When I run, it also helps me see sides of a city that I wouldn't visit otherwise. But, a lot of cities have streets that are a sprained ankle waiting to happen.
Why Gyms?
I like jogging as much as the next person. But, I prefer doing hill sprints and 100 meter runs. Florence, where I'm living now, is perfect for running hills.
But, it was tough to find tracks and hills for doing these activities in Asia and South America. That and the precariousness of some city streets meant I confined most of my exercise to gyms and parks.
Gyms suit the kinds of strength and HIIT workouts that I like to do and many have treadmills for cardio. Nearly every city has a solid gym because weightlifting is an activity that's popular pretty much everywhere.
But, I didn't know if I'd be able to consistently find affordable gyms in the cities I was traveling to. Especially because a lot of gyms in the US don't allow walk-ins or they make you fill out paperwork just to work out there. Luckily, finding good and cheap gyms has been a non-issue.
I usually paid around $1.00 to $3.00 for a day pass at gyms in Asia and South America.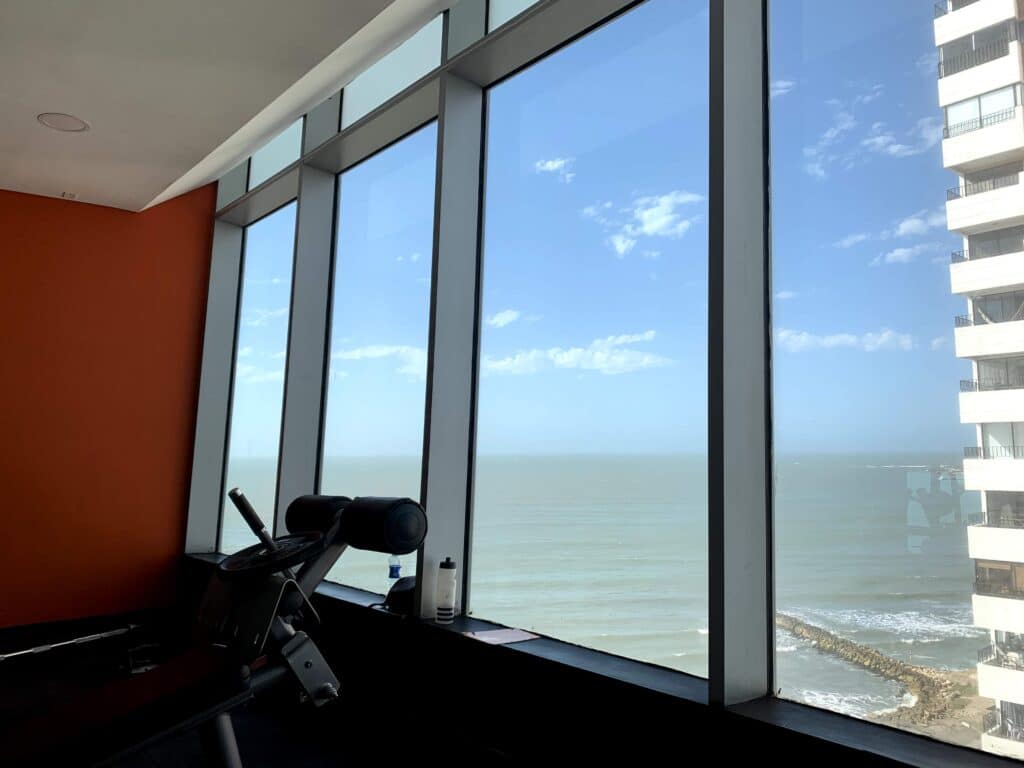 How To Find Good and Affordable Gyms When Backpacking
A Quick Google Search
What I usually do is pull up the city I'm in, or traveling to, on Google Maps. A search for "gyms near me", if I'm already in the location I'm researching, usually returns some good options.
I like to coordinate which gym I'm going to go to ahead of time because it gets rid of some of the stress of planning. When I'm researching gyms before I'm in a particular place, I'll search gyms in *city name*.
A gym's location is very important for me. I prefer having more time to explore during the day by working out close to my hostel. Ideally, both my hostel and the gym I'm going to are close to attractions or public transit.
Sometimes a gym's location even factors into my accommodation choice if there are only one or two gyms in a city. I'd much rather pay one or two dollars extra per night to only have a 10 minute walk to the gym than walk 45 mins just to lift weights.
Read the Reviews
Gyms in the U.S. are typically highly organized. They often have a social media presence along with a website and clearly advertise their prices. This isn't necessarily the case in a lot of other places.
So, this is why the reviews are important. If there's no website with an advertised price for a day pass, I can usually count on someone providing that information in the reviews.
For example, I looked up gyms in Luang Prabang, Laos and found a gym that looked decent: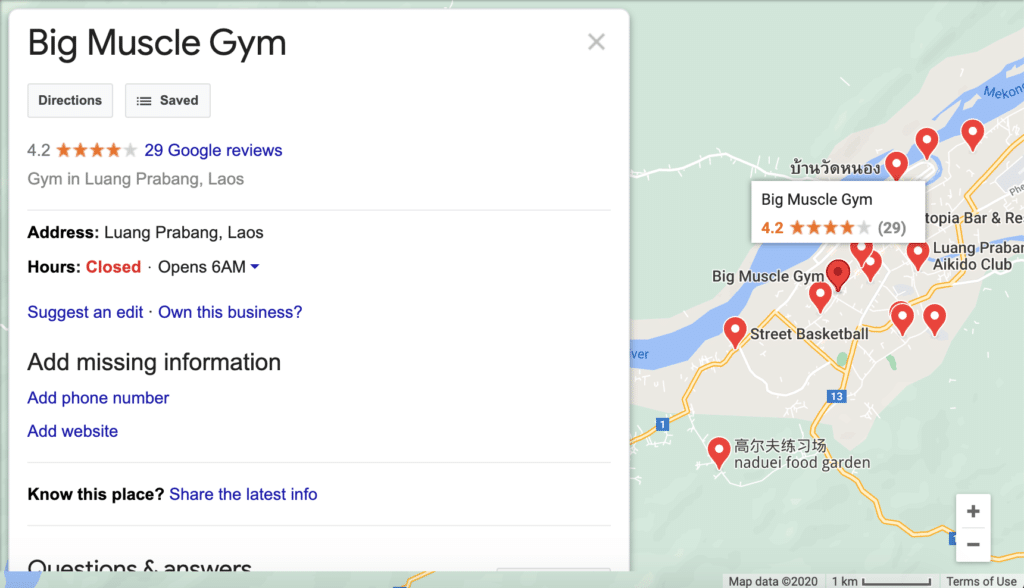 There's no information about the gym except for its name, which is great, and its location. So, I searched the reviews for the price information: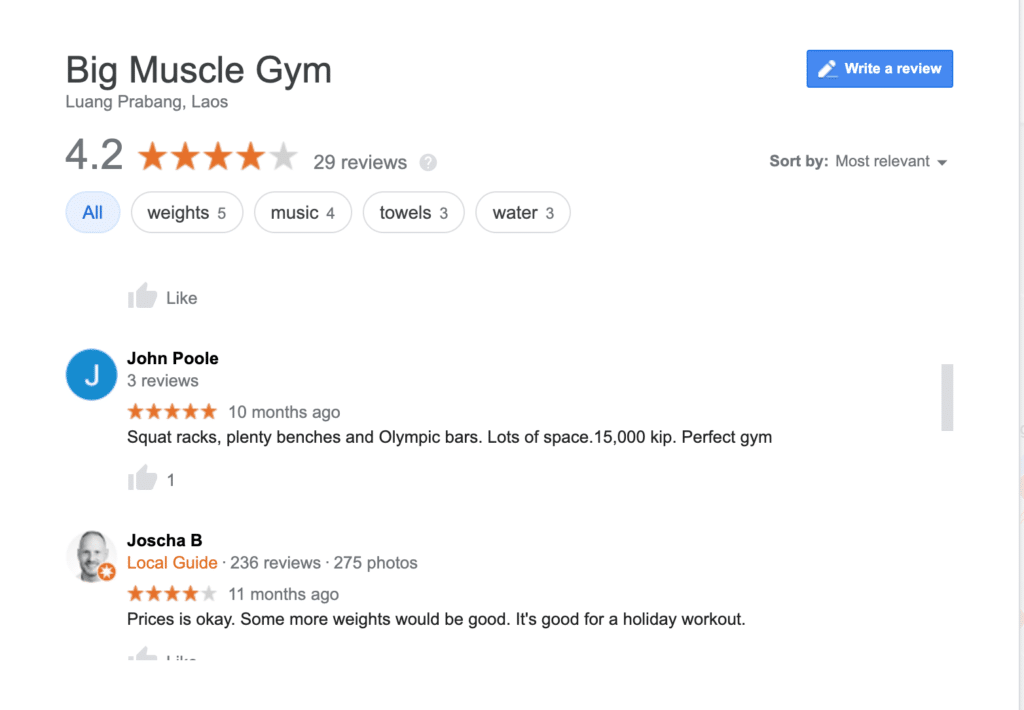 Sure enough, I only had to scroll down a little bit for the price to be advertised. 15,000 kip for one day is $1.60, which is around the same price I typically paid in Asia. I worked out at Big Muscle Gym when I was backpacking in Luang Prabang and thought it was a good gym for the price.
Pictures are Important Too
I am fine with working out in gyms geared towards powerlifting or that mostly have free weights. If you're looking for something closer to a typical gym back home with treadmills/ellipticals, machines, free weights, and squat racks you may have to do more digging.
If you're pickier about your needs, you'll have to rely on photos from generous Google reviewers. Of course, in smaller cities/towns you may only have one option for going to the gym. But, if there are multiple options, it's always good to view the pictures on the Google Maps page to get a sneak peek of what a gym has.
Ask for a Day Pass or Negotiate a Rate
Once you've found a suitable gym for your needs, all you need is the motivation to go work out. When you go to the gym you can ask to pay for a day pass. Every gym I've visited while backpacking has taken walk-ins but it might be good to read the reviews to make sure.
If you know you'll be in a city for, let's say, a week and want to work out every day, you could try to negotiate a weeklong pass. When gyms are on the cheaper side, I don't do this. But, I've come across some nicer gyms in Colombia, with comparable prices to the US, where this was helpful.
At first, it might feel overwhelming to try to figure out how to work out while backpacking. But, these steps should make the process a little easier. I've had very few problems when working out, but the potential ones are worth discussing.
Some Things to Expect
Outdated equipment is common but I'm a fan of grittier gyms. A treadmill I was on broke in Thailand and that could have potentially been dangerous.
There's a near ubiquitous lack of A/C in gyms in Asia and South America. I haven't really gotten used to this and end up drenched in sweat every time I workout in one of these gyms.
If this is a potential issue for you, it's worth searching and reading reviews to see if there's a gym with A/C in the area you're traveling in. Regardless, I recommend bringing a towel with you because a lot of gyms won't provide one.
Other than that, things typically run pretty smoothly. I guess my American brain also struggles to convert kilograms to pounds quickly. Some gyms even have their own pets, which was definitely a positive for me!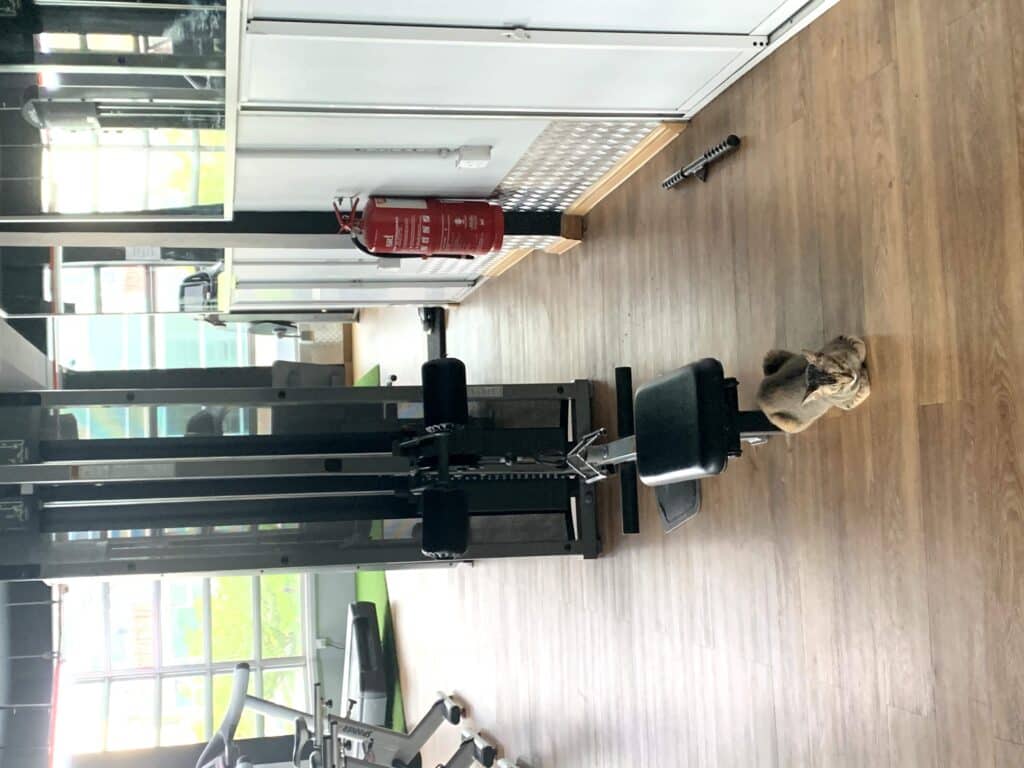 Packing with the Gym in Mind
Make sure to pack enough workout clothes if you plan to exercise while you travel. I like to pack shirts and shorts I can work out in but also wear casually. This is very important because I have limited space when I travel with only a carry on backpack.
When I backpack I like to bring one multipurpose pair of sneakers. Shoes take up the most space when packing, so it's nice to just travel with one pair and flip flops. I look for something I can run in but also wear casually.
It's also good to pack a daypack to bring to the gym. You need somewhere to put your phone, wallet, hostel/room key and water bottle after all. A small packable microfiber towel is also a good idea.
Bluetooth earbuds are an invaluable gym/running accessory. I don't go to the gym without my EarFun Frees. They're cheap, have pretty good sound quality and, most importantly, don't fall out when I run.
If you're interested, I cover some of my other essential items to pack while backpacking here.
Don't Let Traveling Ruin Your Fitness Routine!
I had it in my head at first that I wouldn't be able to continue my routine when I was traveling. I thought it'd be too much effort, too expensive, and take away from sightseeing time.
In reality, it was easy to find gyms and nice to have a sense of structure. I never paid more than $5 to work out anywhere but obviously this is dependent on what kind of location you're traveling in.
If I'm on a short trip, sightseeing takes precedence over going to the gym. However, when I'm doing long term traveling, I like to pace myself so I don't burn out. I was able to find a sustainable balance between sightseeing and working out and had no problems fitting both into my days.
I hope you're able to as well and keep your fitness goals when you're on your next trip!