Racking up airline miles is part of what makes flying enjoyable. When it comes to actually using them, it is important to treat flights booked with miles like any other purchase. According to The Points Guy's latest valuation, United Miles are worth 1.4 cents. That means it makes sense to book a United intra-continental US saver award flight for 15,000 miles if a flight is more expensive than $210. As easy (and irrational) as it is to treat miles like they're fake currency, as I often do with my Venmo balance, you should try to redeem miles for the greatest value.
Thankfully, this is where the United Excursionist perk comes in. The excursionist perk gives you a free one way segment (you have to pay taxes + fees) booked with miles on a multi city itinerary, with some added caveats. The free one way segment must be in a different region from where your travel started. It is important to note that there are 17 discrete regions, so many itineraries will qualify for the perk. The other important condition is that the free segment must originate and end in the same region. Let's run through what that means in practical terms.
Excursionist Perk in Action
I must be traveling within a single region, but in a different region than when I started to get the free segment.
Mainland US, Canada, and Alaska is a defined region which will be my origin for practical purposes. Let's say I want to fly from Houston to South America and go to Colombia, Ecuador, and Ecuador's Galapagos Islands. All three of my destinations are within United's Northern South America region. This itinerary booked with cash will most definitely be expensive which is a good indication that miles might be more valuable.
So, I book a multi city itinerary with miles starting from Houston to Bogota on May 7th.  Bogota to Guayaquil, Ecuador as my free excursionist perk on May 14th, and from the Galapagos Islands back to Houston on the 23rd. Of course, I'd have to book a cheap flight (usually around $110) from mainland Ecuador to the Galapagos islands outside of this itinerary.
Here's what that prices out to: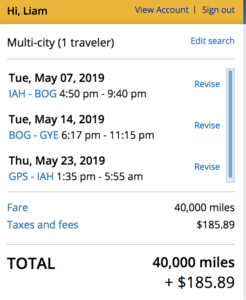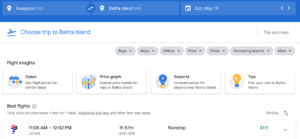 So, I spent 40,000 miles + 185.89 in fees + $111 going from Guayaquil to Baltra Island. This adds up to a value of $856.89. Remember, we're assuming a value of 1.4 cents per mile, so 40,000 miles * .014 = 560. Now, let's see what this itinerary would look like booked with cash.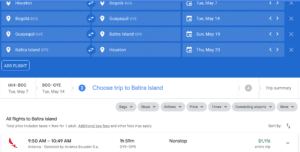 At its cheapest this itinerary is $1,116, which includes a grueling 2 stop, 21 hr journey back to Houston. So, we can see that it saves at least $250 to book with miles and practically more given the difference in travel times. The one way flight I got for free + tax from Bogota to Guayaquil is $408 as a one way. This is only one of many examples in which the excursionist perk can save you some serious cash if you have the United miles to take advantage of it.
Here's another example if you're not already sold:
Another (Somewhat Impractical, But Fun) Example
Similar dates in this example but wildly different locations. A one way saver award flight to Central Asia is 42,500 miles. Because this region covers a huge swath of ground, it's especially useful for the excursionist perk. It is feasible to be able to book a free flight to and from places as disparate as Kyrgyzstan and the Maldives.
The first flight is from Newark to New Delhi on May 7th.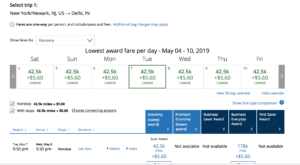 I then book a cheap flight from New Delhi to Kathmandu, Nepal to see the world's tallest peak.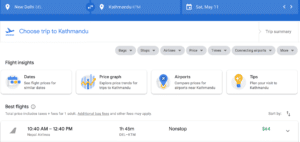 Moving from the mountains to the tropics, I book a ridiculous almost free flight from Kathmandu to the Maldives using the excursionist perk.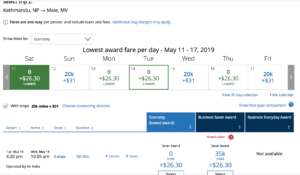 The return flight to Newark is 42,500 miles, just like the original. Even though this is a hypothetical, returning from the Maldives back to Newark is a pretty grim thought.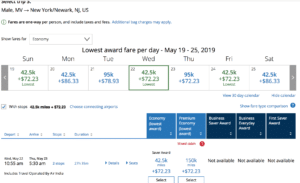 This itinerary prices out to 85,000 miles + $104.13 for a total value of 1294.13 (85,000 * .014 + 104.13). Although this is quite expensive, it amazingly saves $672 vs. booking the cheapest possible itinerary with cash. Here's what that would look like: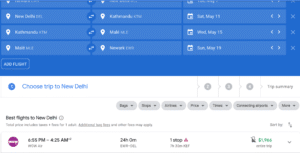 Although United miles have devalued in recent years with changes to the awards program, there are still plenty of bargains to be had. Plenty of them involve using the excursionist perk and I hope you now feel comfortable booking an itinerary of your own with it. Happy travels!