It's never been cheaper to fly to Las Vegas. Low cost carriers like Allegiant, Frontier, and Spirit all have a significant number of flights to and from Sin City. This has also had the effect of traditional airlines lowering their prices to compete. From virtually every large metro area in the country, you'll be able to regularly find round trip tickets for under $200, cheaper if you stay on top of promotions from Frontier and Spirit. Even smaller metro areas typically have good service to Vegas. Why go to Las Vegas if you don't like gambling, clubbing, or debauchery in general? For the natural wonders within driving distance.
Death Valley, Zion, Bryce Canyon, and Grand Canyon National Parks are all under 4 hours away from the city. That's without even mentioning the Red Rocks within the city limits of Las Vegas. I wouldn't recommend the fast paced itinerary I followed last year to anybody: Landed in Vegas on Thursday night, Drove to Bryce Canyon Friday, Zion on Saturday, Death Valley Sunday and returned just in time for a Sunday night flight (was able to get flights from Chicago for $80 round trip with a promotion from Spirit). But, you can easily knock out one or two of these awe inspiring places out in a weekend. If you're under 25 make sure you read about how you can get rid of young renter fees.
Death Valley was an incredible place to visit and I wish I had more time to appreciate it in all of its vast and desolate beauty. However, the most logical itinerary for seeing the most in a weekend involves visiting Zion and Bryce Canyon national parks in Utah. This is only my opinion, and if you're into both nightlife and going to parks during the day, then seeing the Red Rocks and Death Valley could be a better fit.
Zion National Park is only a 2 hr 40 min drive from Las Vegas and it showcases one of the most beautiful (and dangerous) trails in the country in Angel's Landing. There are plenty of trails for hikers of all ages and skill levels. Even if you're not a hiker, the natural beauty is unparalleled.  Either way, make sure you pick up a sandwich at Cafe Soleil beforehand.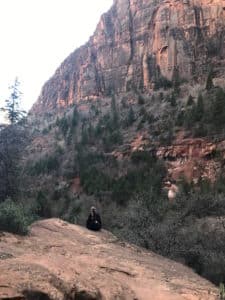 Bryce Canyon National Park, which is definitely overlooked, is only 70 mile drive from Zion which makes it possible to visit both in the same day. Bryce Canyon is known for its hoodoos, or thin rock spires, which protrude from the basin below the rim of the park. I had never seen anything like it at the time and the park was a highlight of the trip. I recommend hiking in the canyon itself and viewing the towering rock formations from up close. In the winter, it might be helpful to have chains for your hiking shoes.
Again, if you're more into the Vegas scene you could choose to go to Death Valley and/or the Red Rocks during the day to get your nature fix. Vegas is an underrated base for outdoor recreation. The fact that I've barely mentioned the Grand Canyon in this post underscores it as such. The constant stream of cheap flights make Las Vegas an ideal place to fly into for a whole range of activities. If money isn't an issue and you're planning on visiting Zion and Bryce, flights to St. George, UT are often around $300 round trip from a lot of cities. For Death Valley, Las Vegas is the most convenient airport.
Zion, especially, is a heavily visited National Park and by no means under the radar, but I hope that people who aren't as familiar with the National Parks consider it and Bryce Canyon as options.