Aside from the absolute basics, it can be tough to decide which things to pack on a backpacking trip. It's too easy to go overboard and pack things that aren't actually essential. Traveling lightweight, especially with a 40L carry on bag, means that everything counts. The last thing you want to do is lug a 35 pound backpack through a city.
But, there are also certain things to pack which are necessary to make your trip cheaper and more convenient. So, I've put together a list of backpacking essentials that I refuse to travel without.
1. Smartphone/iPhone
I don't really know what I'd do without my phone on backpacking trips. It's my main method for booking travel plans, taking pictures, maps, and staying in touch with people.
With the maps.me app, I don't even usually need to buy a data plan in the places I travel. Highly detailed maps for any locale can be downloaded to be accessible offline. I've relied on it for motorbike trips in Southeast Asia and trekking in South America. I find maps.me to be more dependable than Google Maps.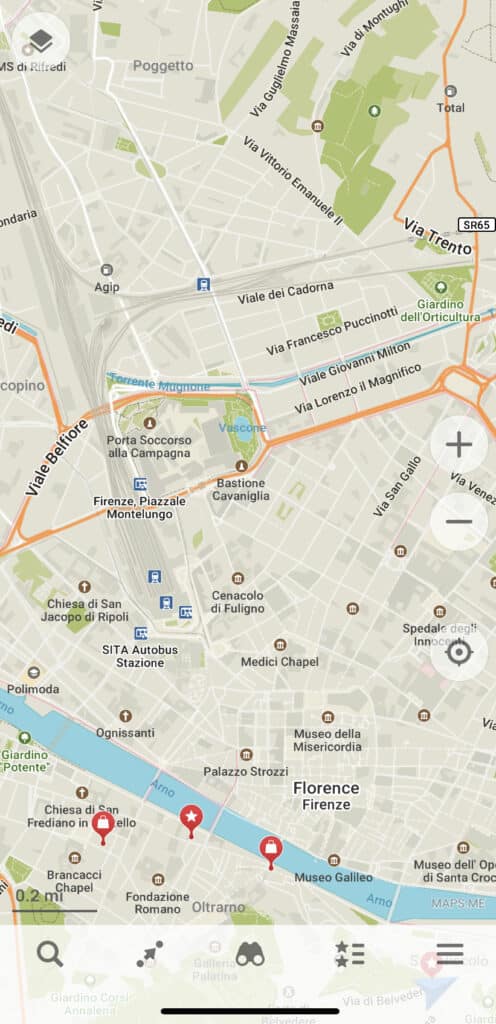 I prefer not to buy data plans because I can still receive iMessages when I'm connected to WiFi, through my phone number. The vast majority of hostels have decent WiFi so it's not usually an issue. And, it means that I'll be using my phone less when I'm out and enjoying the place I'm in more. Although I do check my health app to see my daily mileage a lot!
I also like to have the local language downloaded for offline use on Google Translate. It definitely doesn't hurt to download movies on Netflix for long bus rides or train trips. I use NordVPN on sketchy WiFi networks and so I have access to more entertainment options back home.
2. Wireless Earbuds
One of my biggest pet peeves is when people play music out loud on public transportation. As much as Americans can be obnoxious, it happens way more than you'd think traveling in other countries. So, it's nice to have a way to drown that out. Earbuds can often have very good sound quality, so it's not completely necessary to carry bulky headphones around unless you're an audiophile.
I like to workout when I travel so it's nice to be able to listen to music when I'm doing that. Earbuds are essential for train and bus rides when I'm watching movies or listening to something. I love the EarFun Frees, they're only around $40 and they do the job.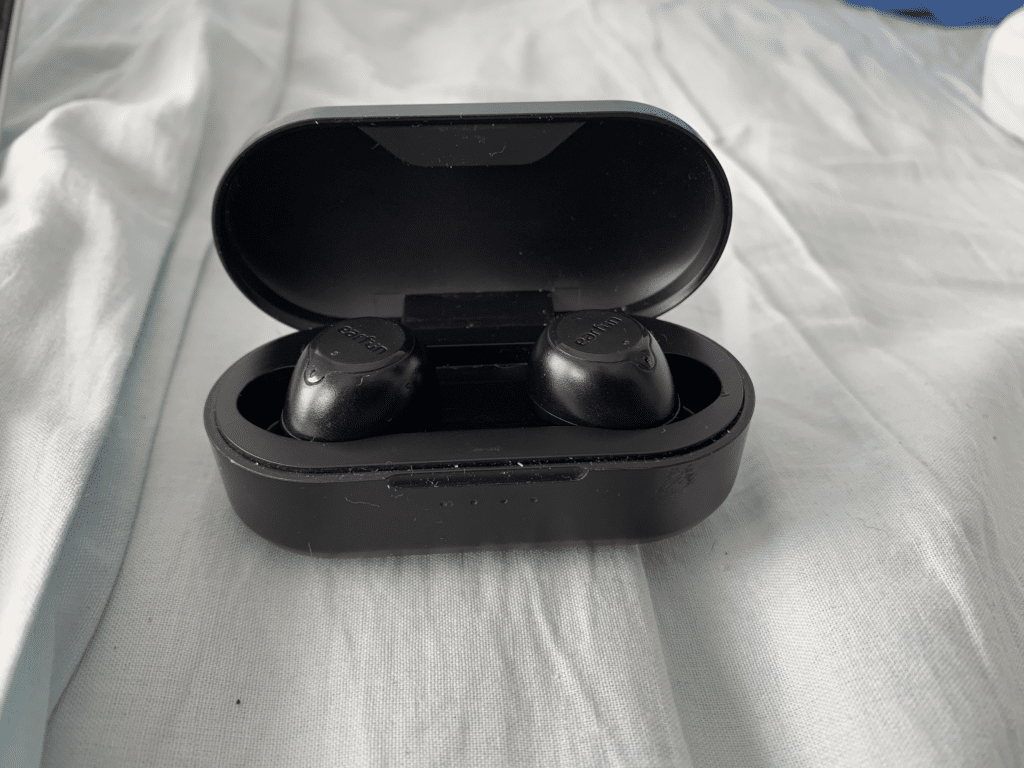 3. Kindle/E-Reader
E-readers are a really under-appreciated travel accessory. As much as I prefer paperbacks over digital, books are simply too heavy to carry around in my bag.
Sometimes I just want to relax and read a book instead of exploring for the day. It's really nice to be able to have that option. A lot of the time, I'm able to download classics on Project Gutenberg for free in an e-reader format. So, the Kindle can also be a potential money-saving tool.
4. No ATM Fee Debit Card
You definitely don't want to get screwed over by predatory currency exchange booths. It's also a nuisance to have to pay a fee every time you take out money at an ATM with your bank card.
A lot of popular backpacking destinations are still cash-dominant places, so having local currency is essential. Having a way to get local currency without paying an arm and a leg is even more essential.
So, it's very useful to have a card that doesn't charge you for international ATM fees. I really like the Fidelity Cash Management card as it automatically rebates these fees.
5. No International Fee, Point-Earning Credit Card
Whenever it's possible to pay with a credit card, I try to. It'd be foolish not to. Every time I spend money on food or travel, I earn 3x points on my Chase Sapphire Reserve.
These points can be redeemed for 50% more than their value when I use the Chase Travel Portal. So, essentially, I'm earning 4.5% back on every food or travel purchase, which makes up the bulk of my backpacking spending.
It's highly useful to have a card like this, which essentially pays for itself. The Chase Sapphire Reserve also has no international purchase fees, which saves a lot of money on a long trip.
6. Portable Power Bank
It might not be an exaggeration to say that this has saved my life. Okay, maybe it is. But, my phone is essential when I'm traveling, so it's important that it doesn't die when I'm out. For camping or multi-day treks, this can really come in handy.
It's nice to have the really high capacity ones to hold four or five iPhone charges. But, some countries like China, won't even let you connect through the airport with a power bank with a higher capacity than 10,000 mAh. I didn't realize this until I had a layover in Beijing and they were inspecting them.
Thankfully, my Anker PowerCore 10,000 was compliant. It's a cheap travel accessory that holds 2.5 iPhone charges and is worth having just in case.
7. Universal Adapter
I can see how this one might slip a first-time backpacker's mind. But, yes, different countries have different kinds of power outlets.
So, it's really important that you have the proper adapter to be able to charge your devices in another country. It's best to buy a one-piece universal adapter so you're less likely to lose it. I like the ones with multiple USB ports so you can charge all of your devices at once.
8. Lightweight Daybag
Whether you're going hiking, to the beach, or elsewhere, it's generally good to be able to carry things. It would be a hassle to unpack my bulky carry on bag at my hostel and bring it with me on day trips.
That said, it's important to bring a smaller bag that can fit inside of your carry-on bag for this purpose. I really like the small nylon bags that can fold up and pack inside of themselves.
I've used them for nearly everything. From holding my water bottle and Kindle to holding clothes and toiletries for multi-day motorbike trips where bringing a big bag would have been impractical.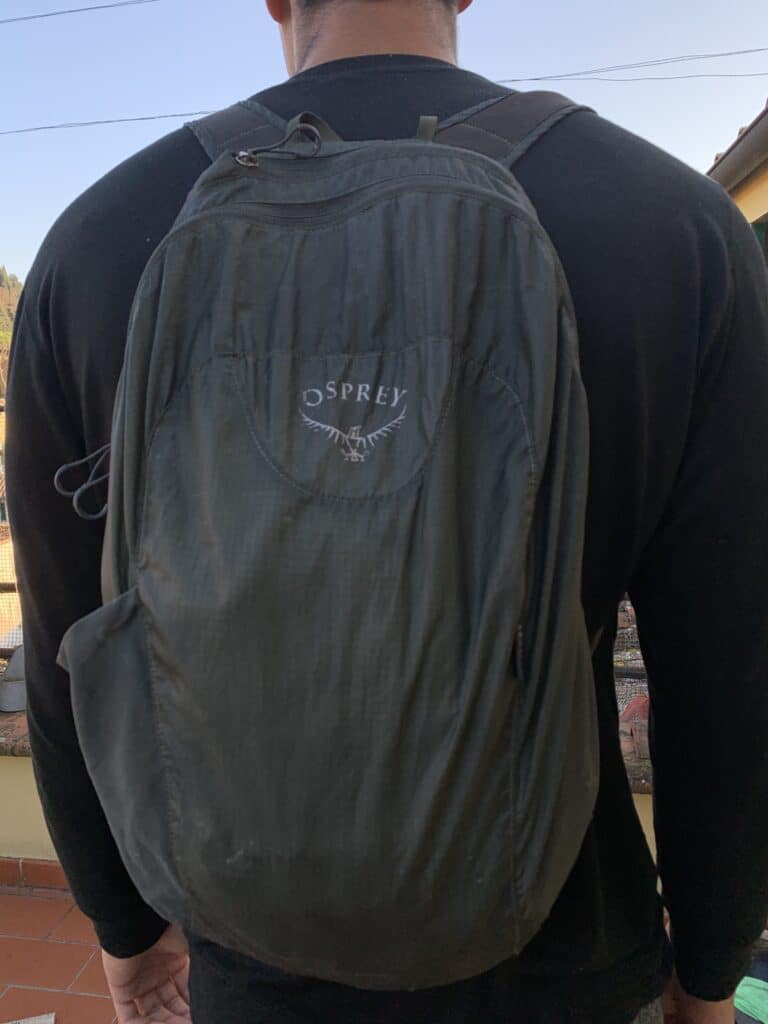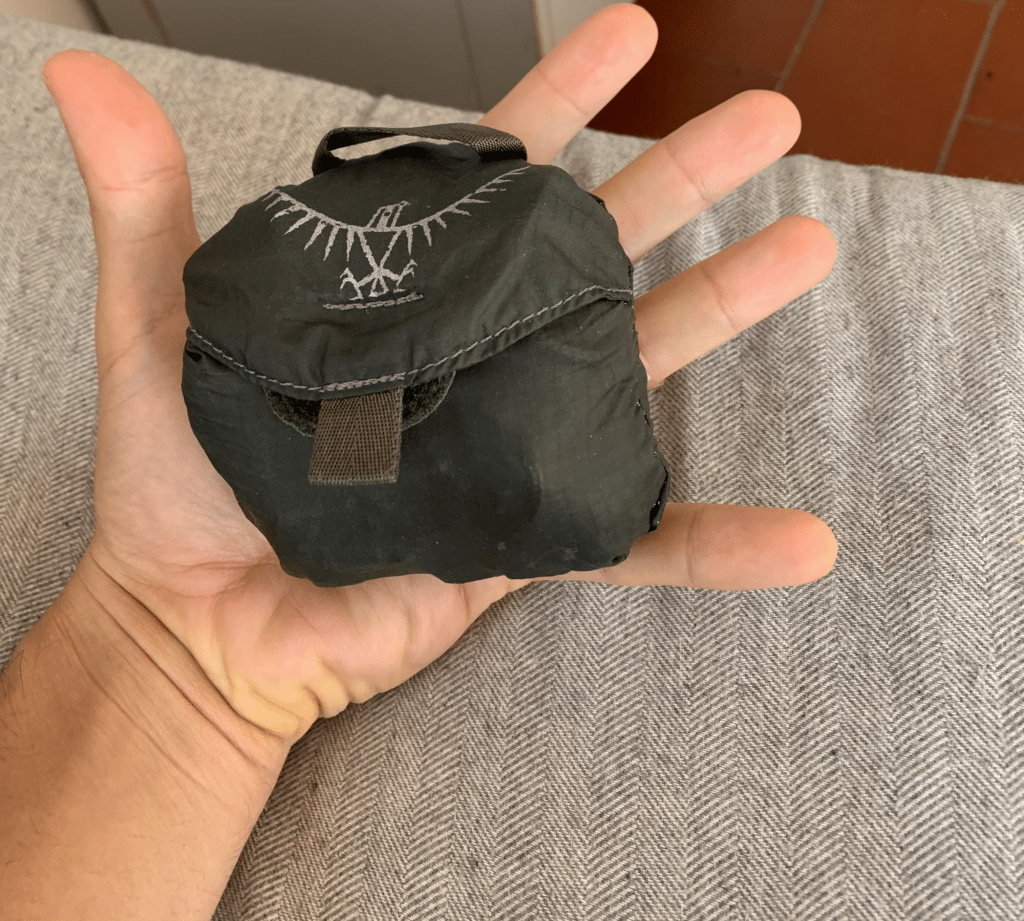 9. Flip-Flops
These are absolutely essential, and not just in places with warmer climates. Shoes are the one object that take up the most space in a backpack, especially because I wear a size 14. So, flip-flops are a space-saving, multipurpose alternative.
I use them for shower shoes, footwear in hotter climates, and for lounging around. Just make sure you don't go in a hostel shower with dirty flip flops.
10. Multipurpose Sneakers
Ideally, I like to travel with flip-flops and one pair of versatile sneakers. It saves me a lot of space if the only shoes in my bag are flimsy flip flops.
Plus, a pair of black sneakers can always be dressed up to be passable at a restaurant or bar. But, it's not like I frequent fancy places when I'm backpacking anyway. I got by for two months in Southeast Asia with Adidas Ultraboosts and flip flops and six months in South America and Italy with flip flops and trail runners.
A pack of stray dogs stole one of my shoes in Cambodia and I had to search in the woods to find it. But other than that it worked out fine! Any sneaker that has enough support for hiking/running and looks decent serves the purpose here.
11. Packable Travel Towel
Microfiber towels don't feel great but they sure are useful. Not every hostel is going to provide you with a towel, especially not for free. So, it's useful to bring your own.
They can double as beach towels or you can lay them down at a park to have a picnic. I guess I'm a sucker for things with multiple uses.
12. Lightweight Rain Jacket/Down/Fleece
This is obviously a judgment call based on the climate that you're visiting.
At the very least, in a hot climate, I think it's necessary to bring a lightweight jacket that's water resistant. That way, you can wear it on rainy days and bus rides when the A/C is chilly.
In South America, I brought a packable rain jacket and a light quarter zip fleece and was never too cold. But, if you're doing a lot of camping at high altitudes, this probably wouldn't work.
In colder temperatures, it's great to have wear layers and have a packable down jacket. The ones Uniqlo sells are cheap and pack into a small bag you can fit in your backpack.
13. Miscellaneous Odds and Ends
While I think I covered the major items that I always aim to pack, there are some smaller things which can make your trip simpler.
Dry/Plastic Bags
Plastic bags or dry bags are great for separating your dirty laundry from the rest of your clothes. I put my clean stuff in packing cubes and keep my dirty clothes in a separate bag.
Leave the Heavy Water Bottle at Home
I love my water bottle. But, it is kind of heavy and the side pockets on my Osprey Farpoint aren't great for holding it. So, it's a good idea to buy an ordinary water bottle where you're going and reuse it.
In Thailand, the one baht water machines dispense way more than one regular water bottle's worth. So, I would buy large water bottles and reuse them to save plastic and money at the machines. If you have a water bottle that filters out tap water in a place where the tap water isn't potable, that's a different story.
Sim Card
Bringing a paperclip or your sim card tool is always a good idea if you're planning on getting a data plan.
Sleep Aids
For me, travel pillows/neck pillows take up too much space and are highly unnecessary. Well, the inflatable/packable ones are alright for lightweight travel but I'm just not a neck pillow guy.
But, other sleep aids can be really helpful. Whether you're woken up at 6 am by prayers on a megaphone in Malaysia, men loudly advertising vegetables in Colombia, or have a snorer in your dorm, it's a good idea to have earplugs!
If you're sensitive to light, sleep masks are also very helpful.
Notepad/Pen
Don't be a sucker who doesn't bring a pen on an international flight and has to fill out the entry form in the airport. That could be the difference between waiting in a 30 minute or 90 minute customs line.
Writing is one thing which could be done digitally that I won't really compromise on. Notepads take up space but there are plenty of small options.
There's something to be said for having your thoughts written down on paper instead of on the notes app. Keeping a journal is a highly rewarding aspect of traveling that I'll always look back on fondly.