Do you want to get rewarded for purchases you'd make anyway? What if I told you you could get a free vacation every year by doing so? It may sound too good to be true, but travel rewards cards are excellent tools for travel. As long as you pay your bill in full every month, you could earn hundreds, possibly thousands, of dollars in credit card points.
Chase Sapphire Reserve
The Chase Sapphire Reserve card is my favorite of the bunch and comes with elite travel benefits. It earns 3x points on travel, which includes everything from parking to Uber and airline tickets, and dining. It earns 1 point on everything else. These points are worth 1.5x more when you reimburse them for travel through the Chase Ultimate Rewards Portal. The portal aggregates pretty much all major airlines, hotels, and rental car companies. This means that, in effect, you're earning 4.5% on every travel and dining dollar you spend. Just spending $5,000 in these categories per year would net you 15,000 points, which gets you $225 worth of travel. If you also use the card for flights regularly you'll earn both Chase Points and frequent flier miles, which puts your ROI even higher.
The $450 annual fee practically pays for itself. It comes with a $300 yearly travel credit, reimbursement for TSA Precheck or Global Entry, and access to thousands of airport lounges across the globe through Priority Pass. The lounges are great to have for when your flight gets delayed, as comfortable spots in airports are hard to come by. The food and drinks are typically free and you'll be able to bring two guests with you. Additionally, you'll get rental car discounts, trip delay reimbursement, auto damage waiver, and no foreign transaction fees.
The main draw is the 50,000 point bonus you'll receive if you spend $4000 in the first three months of having the card. If you're able to do this without spending on frivolous things, this is a great offer. This nets you at least $820 in travel spending, as you can redeem the 54,700 points for 1.5x more through the Ultimate Rewards Portal. If you're wondering where I got 54,700 from, you get 50,000 points from the bonus and at least 4,700 points for spending $5000. The first $300 you spend on travel is reimbursed as a statement credit, so you won't earn points on it.
Transfer Partners
One of the best perks of the Sapphire Reserve is the fact that you can transfer Ultimate Rewards points to plenty of airline and hotel partners at a 1:1 ratio. Some of those include United Mileage Plus, Southwest Rapid Rewards, Jet Blue, Hyatt, Marriott, and IHG. This is amazing to have if you're short on miles and can transfer over for trips such as these, where it's cheaper to book with miles.
Combining with another Ultimate Rewards Card
If you'd like to maximize your points, it makes sense to pair the Chase Sapphire Reserve with a card that earns points at a higher rate for categories other than travel and dining. The no annual fee Chase Freedom Unlimited earns 1.5% back on everything. The regular Chase Freedom card earns 1% on most things and 5% on rotating categories and also has no annual fee. Each one comes with a $150 (15,000 point) bonus after spending $500 in the first three months.
Example of value added
Let's say you spend $5000 per year on travel and dining and $15,000 on everything else. Here's what kind of value you'd get from the Chase Sapphire Reserve if you made all of your purchases on it.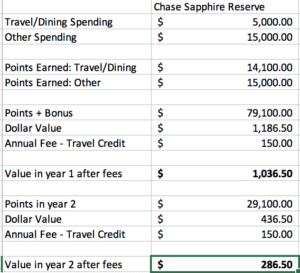 This should be somewhat straightforward other than the fact that you only earn $14,100 points for $5000 on travel/dining. Remember, this is because the first $300 you spend on travel will be reimbursed and will not earn points. The figure for the first year would obviously change drastically without the bonus, but I wouldn't advise you get the card unless you can do so. As long as you can keep up the spending in this figure, you'll net nearly $300 in value every year for making purchases you'd already make. Next, let's see what happens if you get the Chase Freedom Unlimited and use it to make purchases for everything other than travel/dining.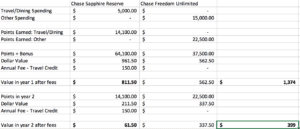 As the rewards rate for other purchases jumps to 1.5% when using the Chase Freedom Unlimited, you'll notice your value grows substantially. The extra 15,000 point bonus it has is very nice and easily attainable ($500 spend in first 3 months). Little things, like knowing that combining two different cards can get you more value, are important for padding your wallet and maximizing your ability to travel. If your credit isn't great right now, you can build credit with the Chase Freedom Unlimited and transfer the points to Chase Sapphire Reserve once you're able to get it. Even if you have no intention of upgrading, the 15,000 point bonus can be redeemed for $150 in cash back.