This is part four of the $150 Getaway Challenge and one I'm ecstatic about because the featured destination is Chicago. In this series, I plan the best itinerary I can find from various origin cities. So far, I've covered trips departing from New York, LA, and Chicago.
I went to college in the Chicago area so it's a new and welcome phenomenon to plan a trip there from a tourist's perspective. Coming in, I thought Dallas would have some interesting options to choose from, but Denver and Chicago were the only cities within budget.
A note about budget carriers
To make things more practical and difficult, weekend trips with a minimum of two nights are the only itineraries I can book. However, things are more or less balanced out by the fact that the flights are usually on budget carriers without full size carry-ons or seat assignments.
I try to travel with a backpack, which qualifies as a "personal item", as much as possible. But, I realize it might be difficult for some people to give up the rolling luggage. For such a quick trip, it's advantageous to have a small bag as you can easily pass time before checking into a hotel or Airbnb and it saves a lot of money. If you're unable to travel like this, these itineraries might not be for you. Budget carriers generally charge upwards of $40 for a "carry on", which can be more than the price of the flight itself!
Here's the full list of rules I have to follow:
RULES:
Flights + Accommodation must add up to under $150 for 2 people ($300 total)
Must be at least a 2 night stay
Accommodation must be at least a private room (no hostels)
Travel dates must be within the next two months and fall between Thursday-Monday
Basic Economy Tickets will be assumed whenever possible
Best Itinerary from Dallas (DFW, DAL)
Destination: Chicago (from DFW)
Flights: $161
Accommodation: $138
Total Cost: $299
Cost Per Person: $145.50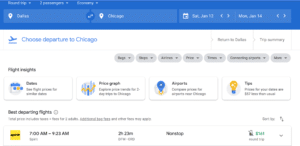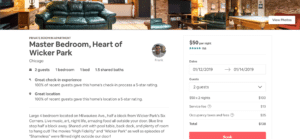 I barely came in under budget here, which reflects the fact that I was looking for a great location for the Airbnb. It has five stars and is in a terrific location, in one of Chicago's most happening neighborhoods. Wicker Park has too many food options to list, vintage and modern shops, indie music venues, and bars.
Furthermore, it's also situated on the CTA's blue line, with easy access to both O'Hare International (30 mins) and the Loop in downtown Chicago (20 mins). I would recommend picking up a three day CTA pass for $20. It includes all of the "L" trains and city buses, which should cover all of your transportation needs.
You'd leave Saturday morning and return Monday night, leaving you almost three full days to explore both Wicker Park and the rest of the city. The entirety of Friday should be enough time to get a feel for Wicker Park and you could branch out afterwards.
Wicker Park
Eat:
Big Star Tacos – More of a hotspot in the Summer with its large outdoor seating area, but it's a quick and cheap place to grab a bite.
Piece Brewery – New Haven style pizza might not have been first on your list of things to get in Chicago, but it sure is good.
Dove's Luncheonette – Quirky Mexican inspired dishes in a cool diner setting
See:
A show at Subterranean or the Hideout
The 606 – Bucktown's answer to NYC's high line
Shop:
My personal favorite shop to go into is Myopic Books, a three level used book store. Apart from that, just walk Southeast down one side of the street on North Milwaukee and go into whatever looks interesting. Cross the street when you reach the end of the commercial area, and do the same on the other side of the street. There are so many interesting shops that you could pass a couple of hours doing this.
After you've checked out Wicker Park, there are endless activities and things to see.
Downtown Chicago
First time visitors to Chicago should check out Millennium Park (Washington stop on Blue line), which boasts the famous Cloud Gate (Bean) sculpture. Adjacent to Millennium is Maggie Daley park, which has a great Winter ice skating rink. Directly south of that is the enormous Buckingham Fountain in Grant Park.
After, you can stop for brunch at my favorite breakfast spot anywhere, Wildberry. The portions are generous, the specialty pancakes are to die for and the Chilaquiles skillet is delicious.
After you've refueled, The Art Institute is within walking distance and showcases some of the most prominent artworks ever created. After you see American Gothic and Nighthawks, you can walk directly west on W Adams for about 15 minutes to see the Willis (Sears) Tower. The Skydeck is expensive to go on and I've personally never done it, but it's apparently a great view.
North of the Chicago River
If you skip out on the Skydeck, you can walk on North Michigan Avenue from the Art Institute across the Du Sable Bridge. If you look to your left while you do so, you'll be able to see The Marina City building that's on the cover of Wilco's Yankee Hotel Foxtrot.
If you keep walking, you'll hit the "Magnificent Mile", a long stretch of seemingly endless stores. The stores are mostly high-end chain retailers. I would recommend skipping out on Navy Pier, but for the best views of Chicago's skyline, you'll want to head to nearby Milton Lee Olive Park.
West Loop Restaurants
Avoid the temptation to eat food around Michigan Avenue. There are some good restaurants but you'll find some of Chicago's best restaurants in the West Loop. You may have to wait for a few hours, but Au Cheval is the holy grail of Chicago burgers. Girl and the Goat, Green Street Smoked Meats, and The Publican are all excellent.
Chicago Venues
Try to catch a comedy show at the famous Second City. Kingston Mines is also an excellent blues bar which has free admission for students Sunday-Thursday.
Lincoln Park
One of Chicago's best neighborhoods, Lincoln Park, is where I'd spend the last day. Lincoln Park Zoo is exceptional for a free zoo and the nearby conservatory is impressive.
I'd walk west on Armitage after checking out the park. There are a bunch of stores, great restaurants, and beautiful brownstones on every quaint side street.
Pizza
I've gone this far without mentioning Chicago style pizza. Some of my favorite pizza in the city is near the Lincoln Park neighborhood and it's pan style. With its signature caramelized crust, Pequod's is a cheese lover's heaven. Chicago Pizza & Oven Grinder Co., also located in Lincoln Park, serves pizza pot pies.
For the best traditional Chicago stuffed pizza, you'll want to head north to Lakeview to Art of Pizza. They sell pies as well as individual slices, which is rare for a Chicago style pizza joint.
Other Lincoln Park Eats
If pizza isn't your thing, Alinea is often touted as the best restaurant in Chicago although it's prohibitively expensive. Toast has great weekend brunch. Café Ba Ba Reeba has mouth-watering tapas and pitchers of sangria to go along with it. Pasta Palazzo is a good stop for quick Italian food.
Other Neighborhoods to Check Out and Things to Do
If you can brave the winter weather, Chicago is one of the best cities in the country to visit. There's so much to eat, see, and do, and a short weekend trip can't possibly fit everything in.
Pilsen is a buzzy neighborhood with a heavily Mexican population and great Mexican cultural events and food to go along with it. Logan Square is an up and coming neighborhood with some of Chicago's best restaurants.
Wrigleyville in Lakeview has dozens of bars, and is home to historic Wrigley field. It's worth coming back some time during the season to catch a Cubs game.
President Obama's Chicago home is in the South Side neighborhood of Hyde Park, which has a lot to do in its own right. If you're heading down there, don't miss the Museum of Science and Industry, University of Chicago and Frank Lloyd Wright's Robie House.
For more of the Getaway Challenge you can subscribe to my newsletter below and stay tuned for more.