One of, if not, my favorite thing about traveling is eating. I'm always looking forward to my next meal, especially when that meal is pizza.
I won't take a position on the New York vs. Chicago pizza debate because they're both excellent when done right. But, there are also notable variations in the USA stemming from Detroit, New Haven, and Trenton, NJ. Everyone loves a good Neapolitan pie as well and where better to get it than in Naples.
I've eaten a whole lot of pizza in my life in a bunch of different cities. I haven't backpacked enough just yet to put together a true worldwide list of the best pizza. Regardless, I present my favorite places from the US and Italy:
10. Salvatore's Tomato Pies – Madison, WI
Wisconsin is the dairy state after all, so it stands to reason that there's some good pizza. Sal's locally sources their ingredients from the largest farmer's market in America, the Dane County Farmer's Market.
The chef hails from Trenton, NJ, which has its own distinct style of pizza not too dissimilar from NY's. The result is a delicious pizza with the sauce on top. This was my go to pizza place when I lived in Madison and nothing else in the city came close.
9. Il Pizzaiuolo – Florence, Italy
Florence is more known for the Schiacciata, a salty focaccia sandwich with Tuscan meats and cheeses. All'Antico Vinaio might be my favorite place in the world. I'm pretty sure I averaged close to two sandwiches a day from there when I was living in Florence. Not to mention Florentine staples like steak, ribolita, and lampredotto.
But, of course, pizza is popular everywhere in Italy and Florence has some solid spots. I like the creative pies at I'Pizzachiere but Il Pizzaiuolo is my favorite spot for neapolitan pies. Something about watching your pizza being made and taken out of the oven always seems to make it better.
8. Union Squared – Evanston, IL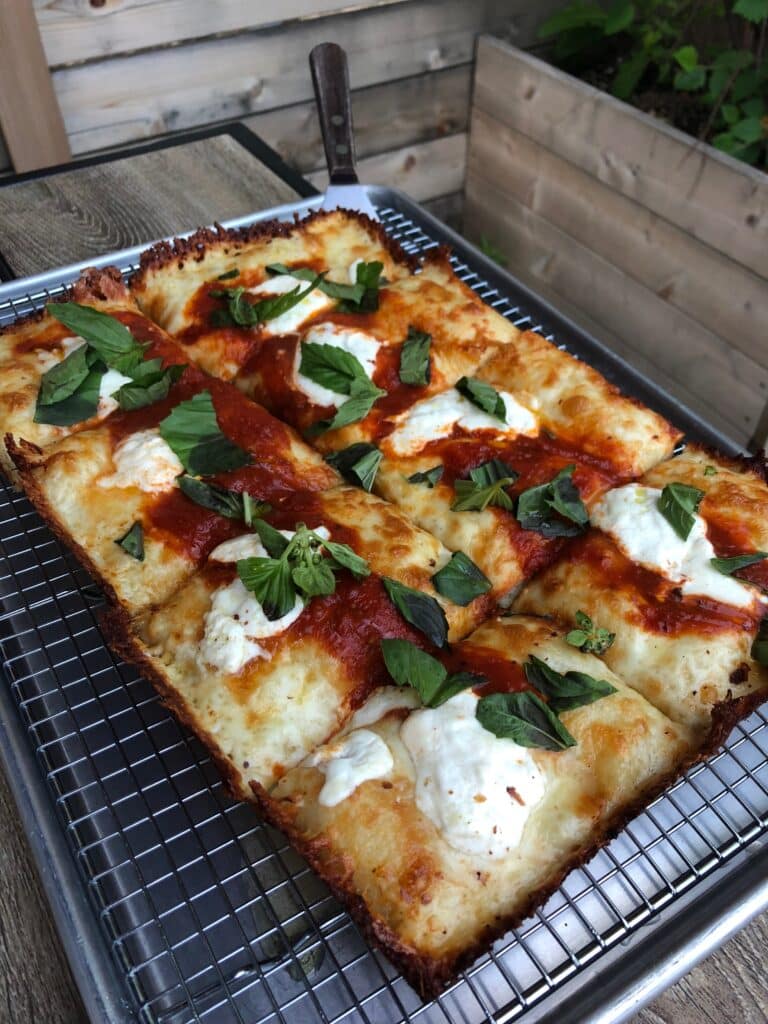 I'm definitely not the foremost authority on Detroit style pizza but Union Squared is delicious to me. I'm planning on going to Detroit for a pizza tour, among other things, but this is my best reference point to date.
With caramelized and doughy crust, pepperoni, brick cheese browned to perfection and the sauce on top, Detroit style is rich with flavor. The Chicago area also has excellent options to offer. There's Chicago style thin, deep dish, and of course the famous stuffed deep dish pizza.
I'd regularly get all of the above when I went to college there but Union Squared always stood out to me. I love the burrata Margherita, which combines most of the typical Detroit style ingredients with fresh basil and mozzarella.
7. Molo Modo 21 – Genoa, Italy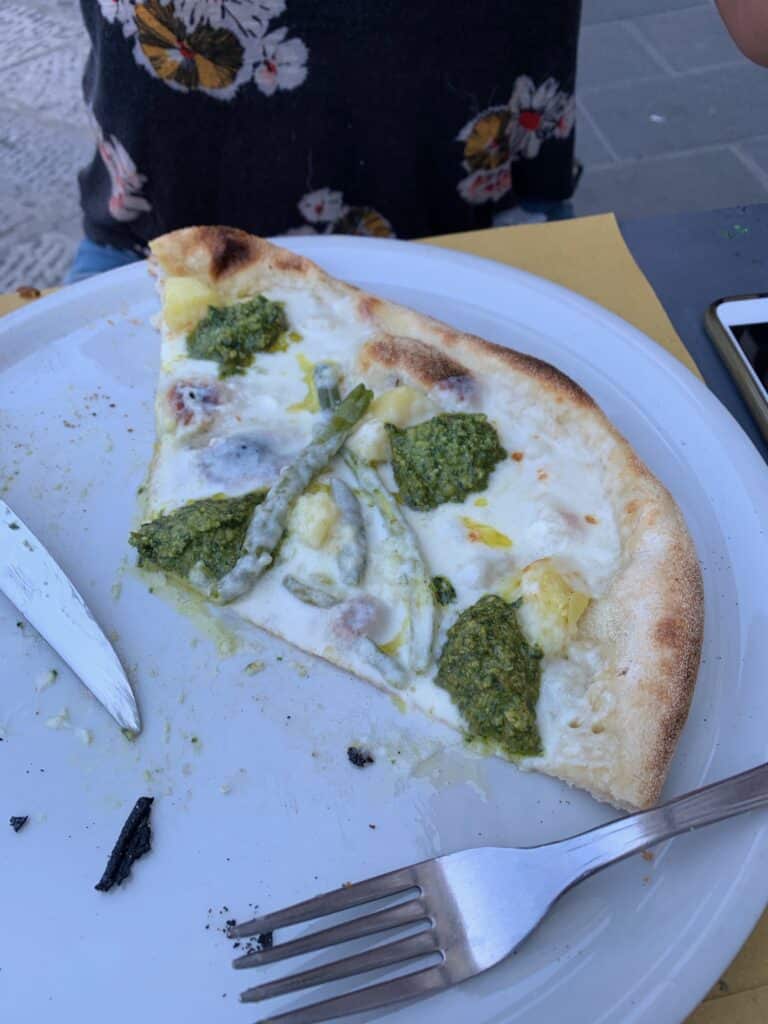 A visit to Genoa isn't complete without eating a lot of Ligurian pesto. Thankfully, Molo Modo offers a pie with a generous portion of it. With stracchino cheese, potatoes, and green beans, it's certainly the most unique pizza I've ever eaten.
It's fair to be skeptical of this one and it's not traditionally Italian, but not much about Genoa is! Genoa is one of those cities that's worth a visit solely for the food.
Thankfully, there's also a lot to see and do in Genoa and I'm excited to go back when I can. It can easily be added onto the front or back end of a Cinque Terre trip, which I highly recommend. Molo Modo's sister restaurant, Cavour Modo has Genovese pastas and main courses, and it can't be missed either.
6. The Art of Pizza – Chicago, IL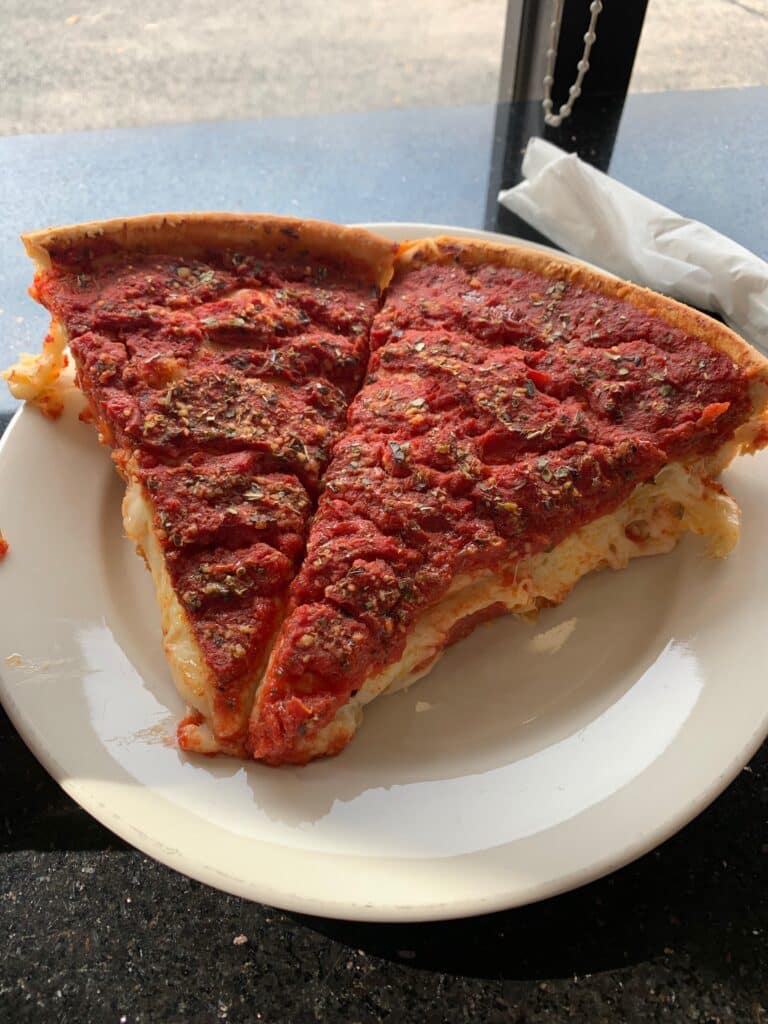 A pie from here could conceivably feed 10 people. Thankfully, Art of Pizza gives the people what they want and is one of the few Deep Dish joints that sells pizza by the slice. Stuffed pizza isn't for everyone, but when it's done right it's nothing short of incredible.
Not too far from Wrigleyville, Art of Pizza makes delightfully cheesy and saucy deep dish pizzas. Giordano's and Lou Malnati's are famous, but they have turned into pretty sizable chain restaurants with locations in multiple states. A local alternative, Art of Pizza is an excellent spot that has received awards by customers and critics alike.
5. Ruthie's – Montclair, NJ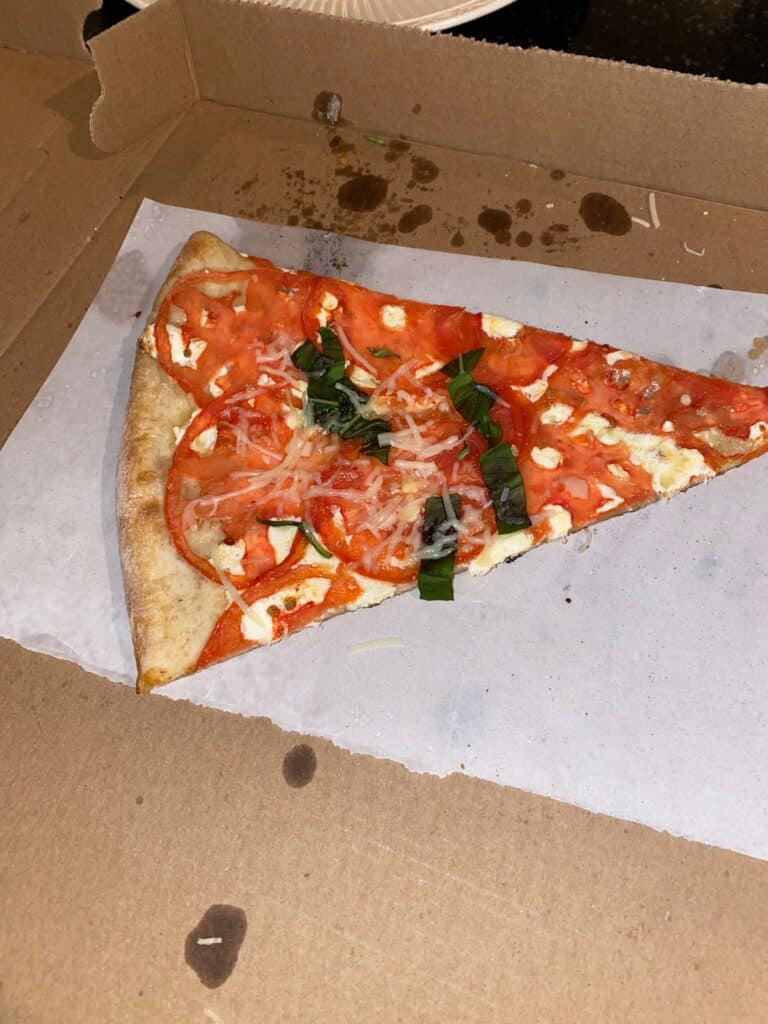 Ruthie's is my favorite pizza spot in my hometown of Montclair, NJ. Northern NJ is one of the pizza meccas of the world and yet one of my favorite spots to eat it is primarily a BBQ place. I didn't even know they sold pizza until a few years after I began eating there.
Chef Eric Kaplan studied at the Culinary Institute of America and everything he makes is good. I'm always in here for the goat cheese salads, sliced brisket, fried okra, and hush puppies. But, the Ruthie's classic pizza is absolutely excellent.
In season, Eric sources ingredients from his farm in Western, NJ. The Classic is not a traditional NY pie but the ingredients are stellar. It's a white pie with fresh mozzarella, asiago, tomato, and basil. Ruthie's recruits music acts to play the blues on weekends.
It's great in the Summer to BYO, eat some BBQ and pizza and listen to live music. It's also worth coming to Montclair to walk the downtown area centered around Bloomfield Ave. that won the 2015 Great American Main Street award.
4. Pequod's Pizza – Chicago, IL
Pequod's is an unassuming place from the outside, it looks like just another sports bar. But this dimly-lit joint in Lincoln Park serves the best possible variation of a deep dish pan pizza. With caramelized crust, sauce on top, and delicious toppings, Pequod's packs a serious punch.
I've yet to have anything that compares to it in Chicago.
3. Brooklyn's Pizza – Hackensack, NJ
Owned by the same family that owns Patsy's Pizza in NY, these are seriously fresh pies. They make their mozzarella in house and use a coal burning brick oven to fire up my favorite pizzas in NJ.
Brooklyn's is so good that my family, as a tradition, would skip getting pizza in NYC and get Brooklyn's on the way back from the city.
2. Frank Pepe's – New Haven, CT
I had heard a lot about Frank Pepe's before the first time I went there. Despite all of the hype, I was pretty skeptical. I first tried New Haven style pizza at Piece in Chicago and thought it was good but not anything special. But, I didn't want to pass judgment until I went to New Haven to try Frank Pepe's for myself.
I'm a New Haven style convert now. I didn't think a thinner variation on NY style pizza could be as good. But, it turns out it's even better. The molten, bubbling cheese and crispy thin crust is excellent and pairs excellently with a cold beer.
1. Gino e Toto Sorbillo – Naples, Italy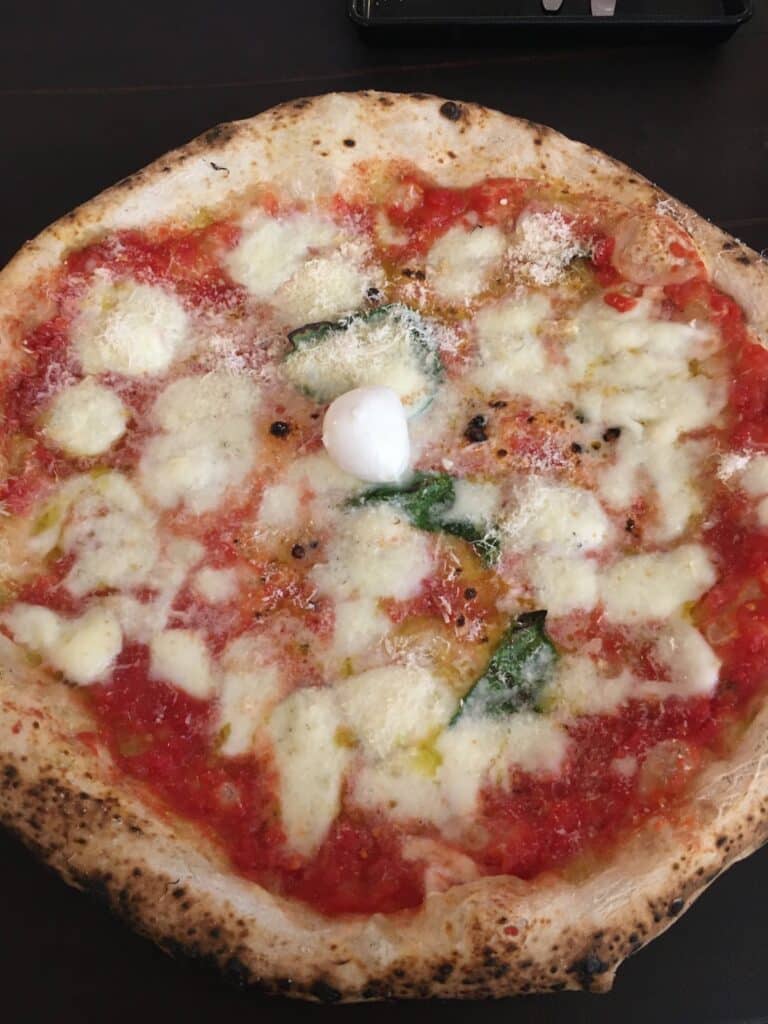 I still have to try L'Antica Pizzeria Da Michele, which is the most famous pizzeria in the most iconic pizza city. With the long wait at Michele, I decided to try the margherita pie at Sorbillo and it was an excellent consolation.
There's honestly not much to say about it that you wouldn't understand from looking at the pie. It's traditional and incredibly delicious. Sorbillo's is cheap, like pretty much all pizzerias in Naples, and it's worth the trip.