This is part five of the $150 Getaway Challenge. In this series, I try to plan weekend trips for under $150 per person. The latest post was a trip to Chicago from Dallas which barely came in under budget. You can find it here.
Houston is the 5th largest metro area in the US, so it's our origin for this post. Once that was the case, there was only ever going to be one destination. New Orleans, #1 on the New York Times' "52 Places to Go in 2018", was under budget and will be the destination. New Orleans is an elite American destination and one of my favorite cities to visit. You'll find stunningly colorful French colonial architecture, a distinct regional cuisine, and an electric music scene.
In case you can't recall, here are the rules I have to follow in planning the trip:
RULES:
Flights + Accommodation must add up to under $150 for 2 people ($300 total)
Must be at least a 2 night stay
Accommodation must be at least a private room (no hostels)
Travel dates must be within the next two months and fall between Thursday-Monday
Basic Economy Tickets will be assumed whenever possible
I was able to find flights on Spirit Airlines for $169 total for two people. This left me $131 for accommodations. Airbnbs have been the MVP of this series thus far and I was able to find a place for $111 in a good location. You'd get a private room near the St. Charles streetcar line, which runs into the French Quarter. All in all this put me $20 under budget.
This is an admittedly quick trip, as you'd only be there for one full day. But, you get two nights to experience the sights and sounds of New Orleans. More importantly, you'll get two dinners. Also, you wouldn't miss much, if any work.
The Rundown
Date/Times:
Depart – Saturday 1/12, 5:47 PM
Return – Monday 1/14, 8:52 AM
Flight Price: $169 (Spirit Airlines from IAH)
Airbnb Cost: $111
Total Cost: $280
Cost Per Person: $140
(Note that Flight/Airbnb prices are subject to fluctuation)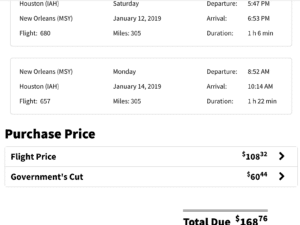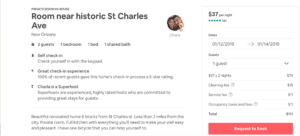 What to See and Do
Once you land, you can put bags down, get dinner, and go to a Jazz club on Frenchmen. Or head to Bourbon Street for more debauchery. If you're looking for a quick eat in the area Dat Dog is a good local chain. Otherwise, there are so many restaurants that you can't go wrong at most places. Emeril's is famous for their seafood, but it's on the pricier side.
Cure your hangover with beignets and coffee at Cafe Du Monde and check out Jackson Square and the St. Louis Cathedral while you're at it. Explore the rest of the French Quarter, walk down Royal Street for antique shops, and appreciate the architecture.
If you venture towards the Bywater/Marigny area, make sure you eat at St. Roch Market. If you're heading further out to Crescent Park, The Joint is a great local BBQ spot.
In the opposite direction, the area around Tulane is beautiful. While you might not be able to fit it in during such a quick visit, it's worth keeping in mind for another time. The campus is quaint, and Audubon park across the street is an urban haven. The zoo isn't bad to pass a couple hours as well.
Magazine street is nice to walk down. For creole infused tex mex near there, check out Juan's Flying Burrito.
No matter what you do, the atmosphere in New Orleans is viscerally exciting and just walking around is a treat.
Getting Around
Day passes for the Streetcar might be worth looking into, especially since they're only $3. It's worth noting that the Saint Charles streetcar is the oldest continuously operating streetcar in the world. It's both a good way to get around and a relic of history. It runs from West of Tulane all the way to the French Quarter. The Airbnb I have featured is conveniently located for riding the Saint Charles line.
However, public transit to and from the airport isn't the best, so you probably should Uber/Lyft if it's within your personal budget to do so.
Up Next
The Getaway Challenge posts will resume late this week. The Washington, DC area will be the origin and hopefully there's some new options to explore from there.
If you like this series, please consider subscribing to the newsletter below.