Latest Post: 2 Nights in New Orleans
This is part six of my $150 Getaway Challenge. If you're new to my blog, in this series I plan weekend trips for under $150 a person, flight and accommodation included. So far, I've been able to meet this budget from the five largest metro areas in the country. Today, I'll be highlighting a trip that leaves from the Washington, DC area.
To make matters a bit more difficult, there are some rules I have to follow in planning the trip:
RULES:
Flights + Accommodation must add up to under $150 for 2 people ($300 total)
Must be at least a 2 night stay
Accommodation must be at least a private room (no hostels)
Travel dates must be within the next two months and fall between Thursday-Monday
Basic Economy Tickets will be assumed whenever possible
Some Interesting Options
I didn't know what to expect from the Washington, DC area, but I was pleasantly surprised. If you're a resident of the area, consider yourself lucky. There are plenty of cities to choose from to have an awesome budget weekend getaway!
As a side note, I'm considering Baltimore's BWI, Ronald Reagan International, and Dulles as part of the area.
For the snowbirds:
Some cities which meet the $150 per person threshold definitively are: Tampa, Fort Myers, and Orlando in Florida. All of which are great winter options for people looking for some sun.
Visit a city outside of peak season:
If you can deal with the cold weather and want a city break, Boston, Detroit, Chicago, and Minneapolis are all possible cheap options.
Winter Adventure:
Winter sports enthusiasts might want to book a cheap Spirit Airlines flight from BWI to enjoy the thrills of the Denver area.
Big Southern Cities:
Atlanta and Dallas both have incredibly heavily trafficked airports, due to their status as airline hubs. But, they can get overlooked when it comes to actual tourism. Both are large cities with great amenities you can plan a cheap vacation to.
With all of these options you can't possibly go wrong. However, I think Savannah is a clear winner when it comes to cheap weekend getaways from the DMV. It's smaller than all of the cities which are in budget, giving you more time to explore and less time on public transit. It has mild Winter weather, beaches nearby, and is an exemplary Southern city. Plus, the itinerary I found includes three nights, giving you a decent amount of time there.
The Best Itinerary from the Washington, DC Metro Area (IAD, DCA, BWI)
All of the below prices are totals for two people combined. You could always go solo or take a group trip and alter the accommodations to better suit your needs. Remember that flight prices are always subject to change and both the flights and Airbnb may look different on another day.
Destination: Savannah
Flights (from BWI on Allegiant): $156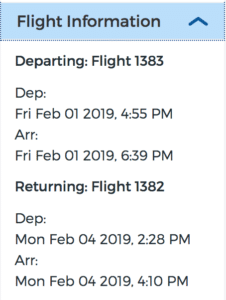 Airbnb: $126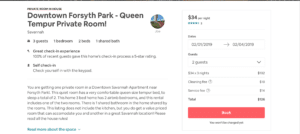 Total Cost: $282
Cost Per Person: $141
So, $9 under budget per person isn't bad at all given the long stay. You'll have Friday night, all of Saturday and Sunday, and Monday morning to see Savannah. Now, let's see what some of your options are when you're there.
Savannah on a Budget
Public transit from the airport to the city takes upwards of an hour but is very cheap, at $1.50 for a one way ride. You'll have to decide whether those savings are worth the loss in time. Check the Chatham Area Transit website for more information. Uber/Lyft appears to be around $25 for the same trip.
After you put your stuff down at your Airbnb, consider stopping by the Soda Pop Shoppe for cheap eats. You'll want to head to River Street for legal open carry and amazing nightlife. Leopold's has been serving up scoops of delicious ice cream for almost 100 years and can satisfy your sweet tooth.
During the day you'll definitely want to head to Forsyth park, to see the picturesque oak trees covered in Spanish moss. You might also consider eating communal style Southern home cooking at Mrs. Wilke's Dining Room. It's closed in January so you'd be able to try it during the first weekend it is reopened. This could also mean the lines for 11 am lunch will be even longer. Note that it's on the more expensive side at $23 per person and is cash only. But by all accounts, it is worth it.
You could spend hours walking around the Savannah historic district on a self-guided tour. It is absolutely gorgeous, with antebellum mansions, public squares, and an intricate cathedral. Also, try one of the many local coffee shops and head to City Market for art, food, and shopping.
As Savannah is said to be a haunted city, you should check out Bonaventure Cemetery. There is no admission charge and it's a must see.
Nature lovers should also check out Skidaway Island State Park and the beaches on Tybee Island.
Step Back in Time
History buffs should certainly see the First African Baptist Church, established by Gorge Leile, a former slave who was ordained in 1775. It bills itself as the first black baptist church in North America but the claim is contested. Nevertheless, it is at least one of the first and incredibly historic. The Ralph Mark Gilbert Civil Rights Museum and the Pin Point Heritage Museum both garner highly positive reviews.
You can also visit the childhood homes of Girl Scouts founder Juliette Gordon Low and writer Flannery O'Connor.
Cheap Eats
Sly's Slider's and Fries – 1710 Abercorn St – Burgers
Fire Street Food – 13 E Perry St – Thai/Sushi
Blends a Coffee Boutique – 102 E Broughton St – Cafe
Narobia's Grits and Gravy – 2019 Habersham St – Southern/Soul
Sandfly BBQ – 1220 Barnard St – Barbecue
Zunzi's – 108 E York St – Sandwiches
Goose Feathers – 39 Barnard St – Cafe/Bakery
Savannah punches well above its weight
For a city its size, Savannah has a great restaurant scene, a whole lot of history, and boundless things to do. With great weather, beautiful preserved architecture, proximity to the ocean, and charming Southern vibes, it makes for an excellent weekend getaway.
Watch out for more of the $150 Getaway Challenge coming soon with a trip from the Miami/Fort Lauderdale metro area.