My goal in this series of posts is to book weekend trips from various cities for under $150 per person. More broadly, I'd like to demonstrate that traveling doesn't have to be lavish and can be planned pretty quickly. In this post I'm going to stay within budget from Los Angeles.
If you missed it, make sure you catch part 1 of the $150 Getaway Challenge. I was able to find a 3 night trip from New York to Cincinnati for $136 per person. This includes flights and an airbnb.
As a refresher, here are the guidelines I have to follow:
RULES:
Flights + Accommodation must add up to under $150 for 2 people ($300 total)
Must be at least a 2 night stay
Accommodation must be at least a private room
Travel dates must be within the next two months and fall between Thursday-Monday
Basic Economy Tickets will be assumed whenever possible
As a quick note, you could always take a bus or a train to your preferred destination and save a little extra cash. But, it's only fair we continue on with booking flights.
As Long Beach and Burbank have airports which are relatively close to downtown LA, I included them in my searches. But, the best itineraries were from LAX.
Best Itinerary from Los Angeles (LAX, BUR, LGB)
Destination: Las Vegas
*Honorable mention to Eugene, OR, but I would have been $13 over budget.
Dates: Thursday, 2/7- Sunday, 2/10
Flights: $161 (Alaska Airlines from LAX)
Airbnb: $81
Total: $242
Per Person: $121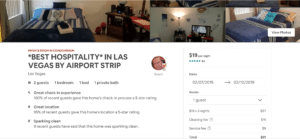 Las Vegas doesn't have to be kitschy, but it's fun to indulge
As much as I view choosing Las Vegas as a cop out, this three night itinerary worked out perfectly. The flights were only about $80/person, leaving me over $45/night for a place to stay. I was able to find a very cheap Airbnb close to the strip with a private bathroom and excellent reviews.
You'd arrive on a Thursday night while the night is still young. Las Vegas is a place where the trip can be drastically different depending on your preferences. A lot of people come to eat high end meals, gamble, go out and repeat the next night, after taking it easy during the day. Vegas is a great place to do all of that because your options are endless. You don't need a guide for having impulsive fun as your options are pretty much endless in Vegas. There are even slot machines in the airport.
If that's not your speed, Red Rock Canyon is a short drive away and it's absolutely breathtaking. The enormous Hoover Dam is also not too far and it's worth a visit.
Regardless, you might want to check out a bird's eye view of the city on the High Roller Ferris wheel. Vegas also has the Golden Knights now, fresh off of a Stanley Cup appearance. There is a home game on Sunday during the trip. However, tickets are very expensive. Additionally, the fountains at the Bellagio are pretty impressive and there's a botanical garden inside of the massive hotel.
When I go to Vegas, I always eat at the Original Lindo Michoacan for great Mexican food. If you're heading to the Red Rocks check out Egg Works in Summerlin for good breakfast food and huge portions. Past that, there are a bunch of highly rated places to choose from.
Vegas can be anything you want it to be. You could even road trip from there if you please.
Honorable Mention: Eugene, OR
Dates: Friday, 1/25 – 1/28
If the prospect of going to Eugene sounds better, here's what that itinerary would have looked like
Flights: $238 (Allegiant from LAX)
Airbnb: $75
Total Cost: $313
Per Person: $156.50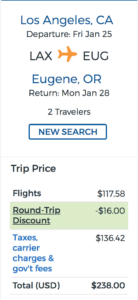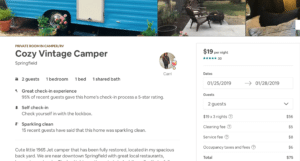 The camper looks seriously cozy and as it was only a few dollars over budget, I probably would have chosen Eugene. Nothing against Vegas, I've just been there a few times.
Eugene, the birthplace of Nike, is a  college town with plenty of outdoor activities. Take a winter hike on nearby Mount Pisgah, visit the impressive Cascades Raptor Center, catch a University of Oregon sporting event, and eat. The city is situated on the Willamette River and during the warmer months water sports enthusiasts can get their fix. There's also a Saturday market that runs from April-November.
Stay tuned for part three of the $150 Getaway Challenge from Chicago coming soon.