This is a scenario all too familiar to travelers under the age of 25: you want to go on a trip but can't afford a rental car because of the huge fees added on.
These fees, which reflect the fact that young people are statistically riskier drivers, are often $30 a day. Your dream trip might be put on hold because of this but, in reality, there are a couple of ways you can waive young renter fees and save hundreds of dollars in the process.
1. Sign Up For AAA and Rent With Hertz
Register for AAA Here
AAA's cost varies regionally but a basic plan is generally in the range of $40-70 per year which you will recoup with one rental, given the exorbitant fees you would pay without it. Membership also includes emergency roadside assistance, accident insurance and a ton of travel discounts. Hertz is currently the only major company which waives Young Driver Fees for 20-24 year olds with proof of a AAA membership.
Once you've registered with AAA and have received a membership card either electronically or by mail you are eligible to make a reservation with Hertz and waive the fee.
Make sure to check the box which says "Enter a Discount or Promo Code" and put in AAA where it says "Discount/CDP/Club Code".
Here's an example of a difference between the basic rate and the AAA rate:


My AAA membership saved me over $150 on a three day rental ($81 in Young Driver Fees) which more than makes up for the membership fee on one rental alone. So, membership is absolutely worth it if you're under 25 and think you'll rent a car sometime in the next year.
2. USAA Membership
Before you consider this as an option, it is worth noting that full USAA membership is limited to military members and their families. Civilians can sign up online for a free non-military USAA membership and will be able to use this account to waive young renter fees online. However, rental companies may check Military IDs or USAA Insurance Cards at the time of rental to confirm your eligibility for the discount. So, use at your own risk if you are not a full member.
Once you have made an account and are signed in click on "Products" on the top bar and click on Travel Deals as shown below: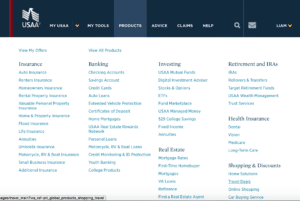 Scroll down and click on "Car Rentals" and enter in all of the details. Once you've done that it will notify you that "USAA Insurance Eligible Drivers" are who the discount is intended for. However, even if you are not insurance eligible the discount will still appear online once you click on a rental. So, It is at the company's discretion whether they actually confirm your status. Again, you may try at your own risk if you are non-military, but this is a better option for military members.
Here's what the savings could look like: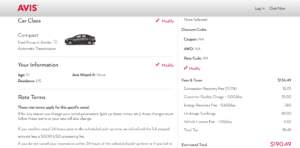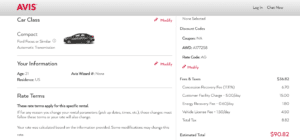 Nearly $100 in savings is amazing for a completely free membership.
Traveling can absolutely be done on a student's budget if you have tools like this at your disposal. Being able to waive Young Renter Fees has opened up a new world of travel for myself and I hope it will for you too.